---
Another PRR A-5.... - doctorwayne - 11-08-2019

....with my thanks to Lutz for both leading the way, and for providing some useful info for my first foray into DCC.

I'm not going to provide a step-by-step  "how-to", as Lutz has already covered the topic rather well.  Instead, I'll merely offer some photos of my progress, with a few comments where they might be useful.  Questions and/or comments are, of course, welcomed.  The kit was donated by a friend, and I built it for another friend.

A couple photos of the running gear...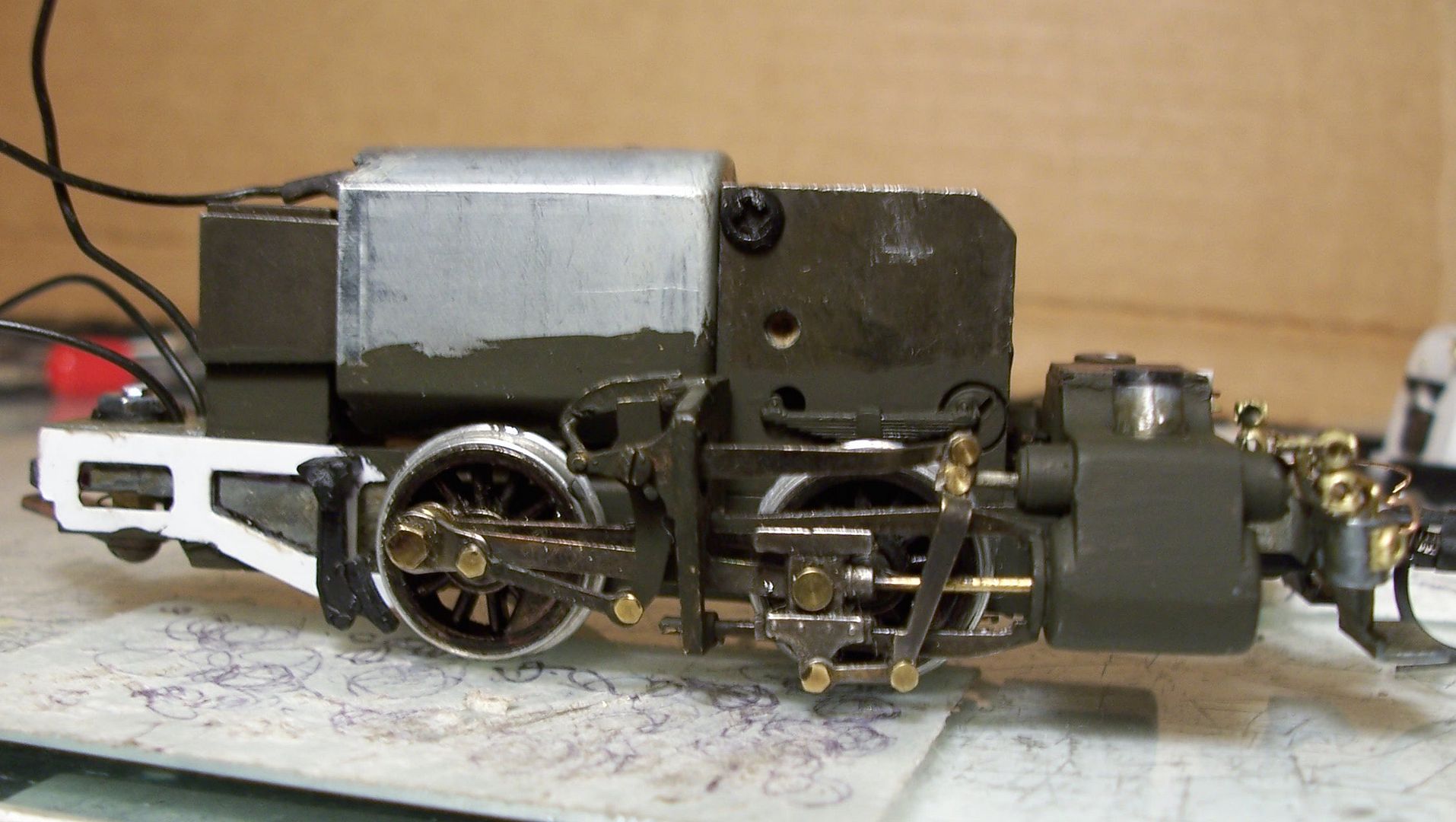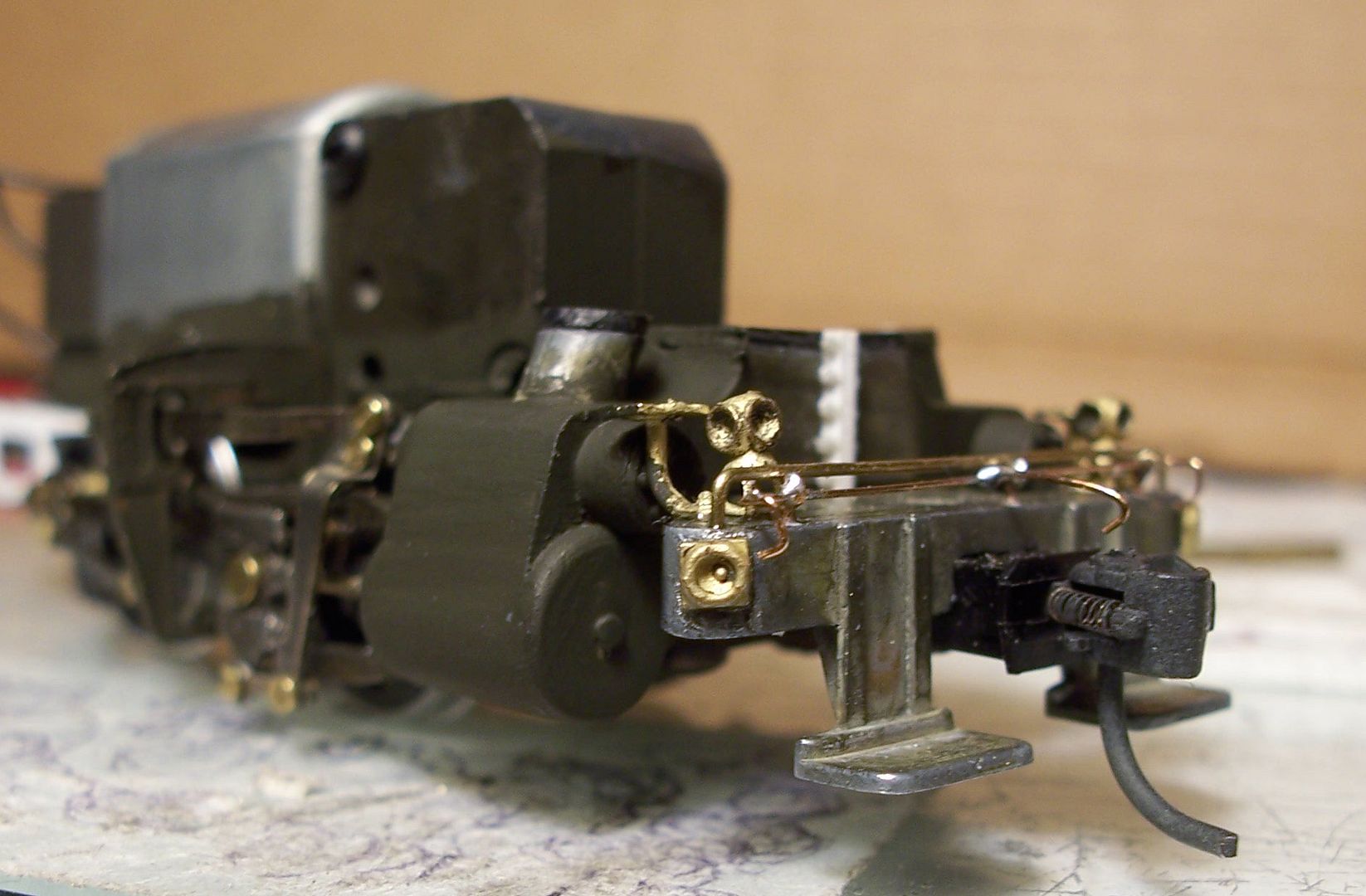 ...and the all-wheel pick-up on the locomotive...




...and tender...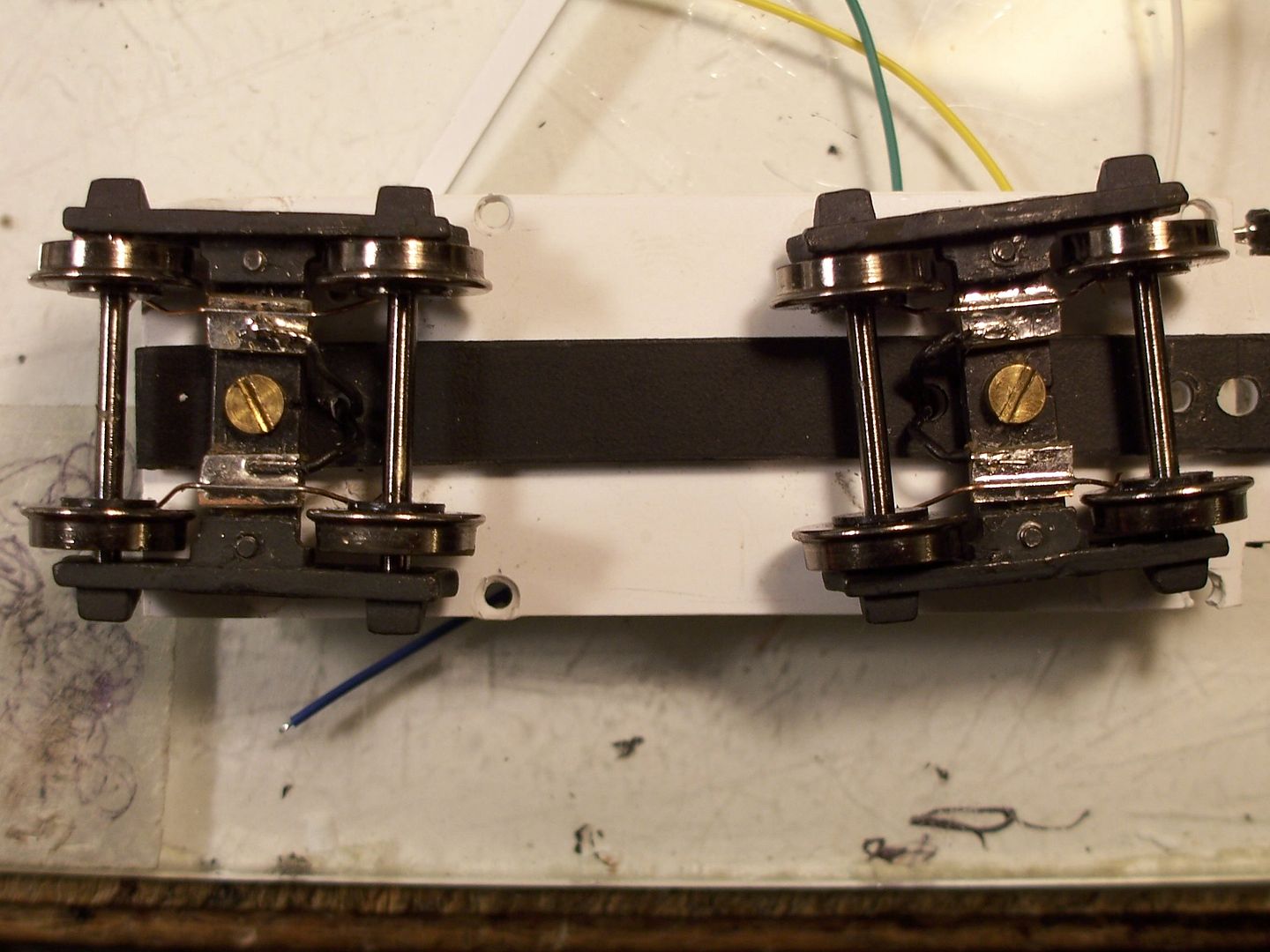 ...along with a look inside the tender, where the power wiring is organised ....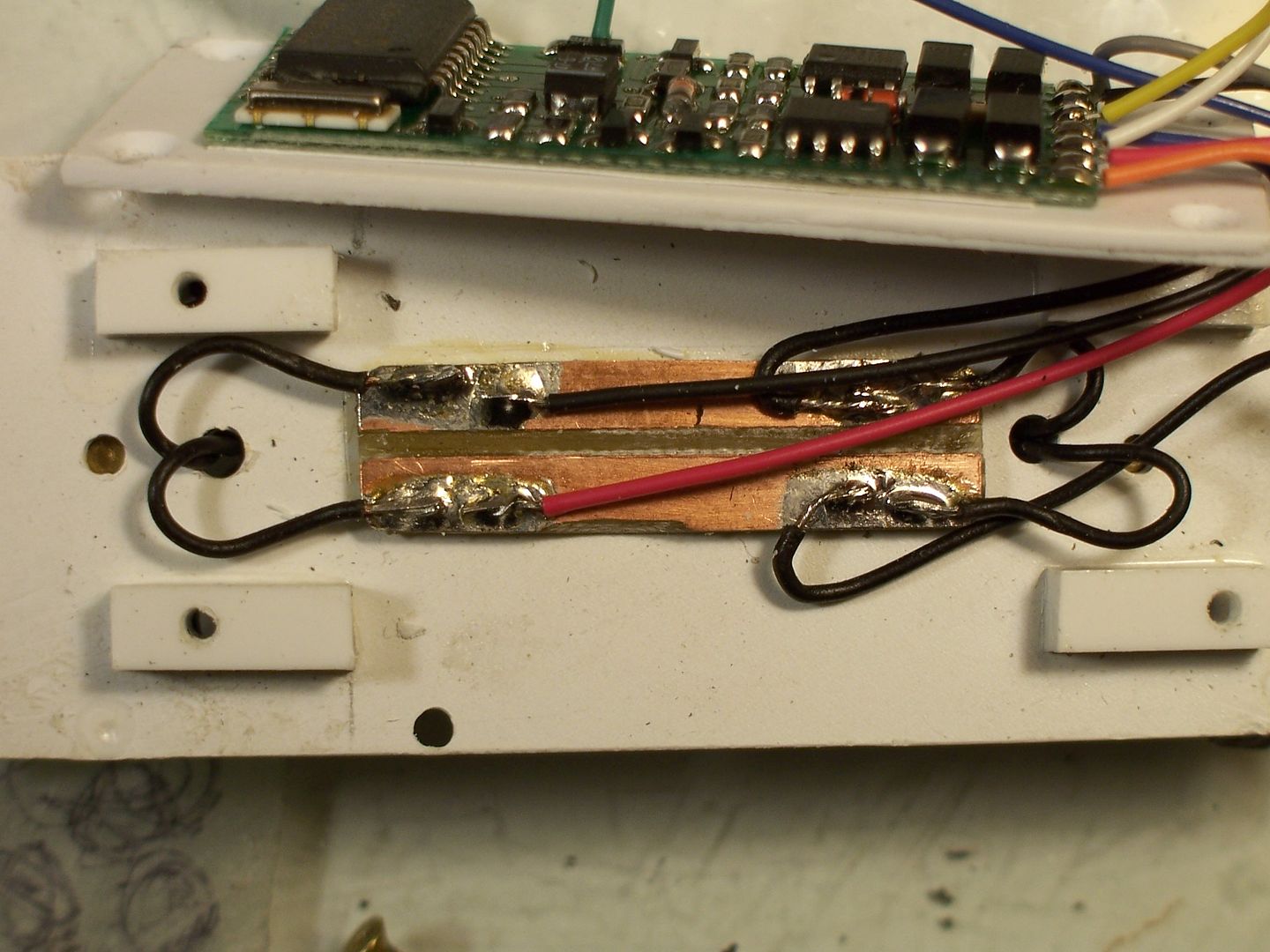 ...and routed to the decoder...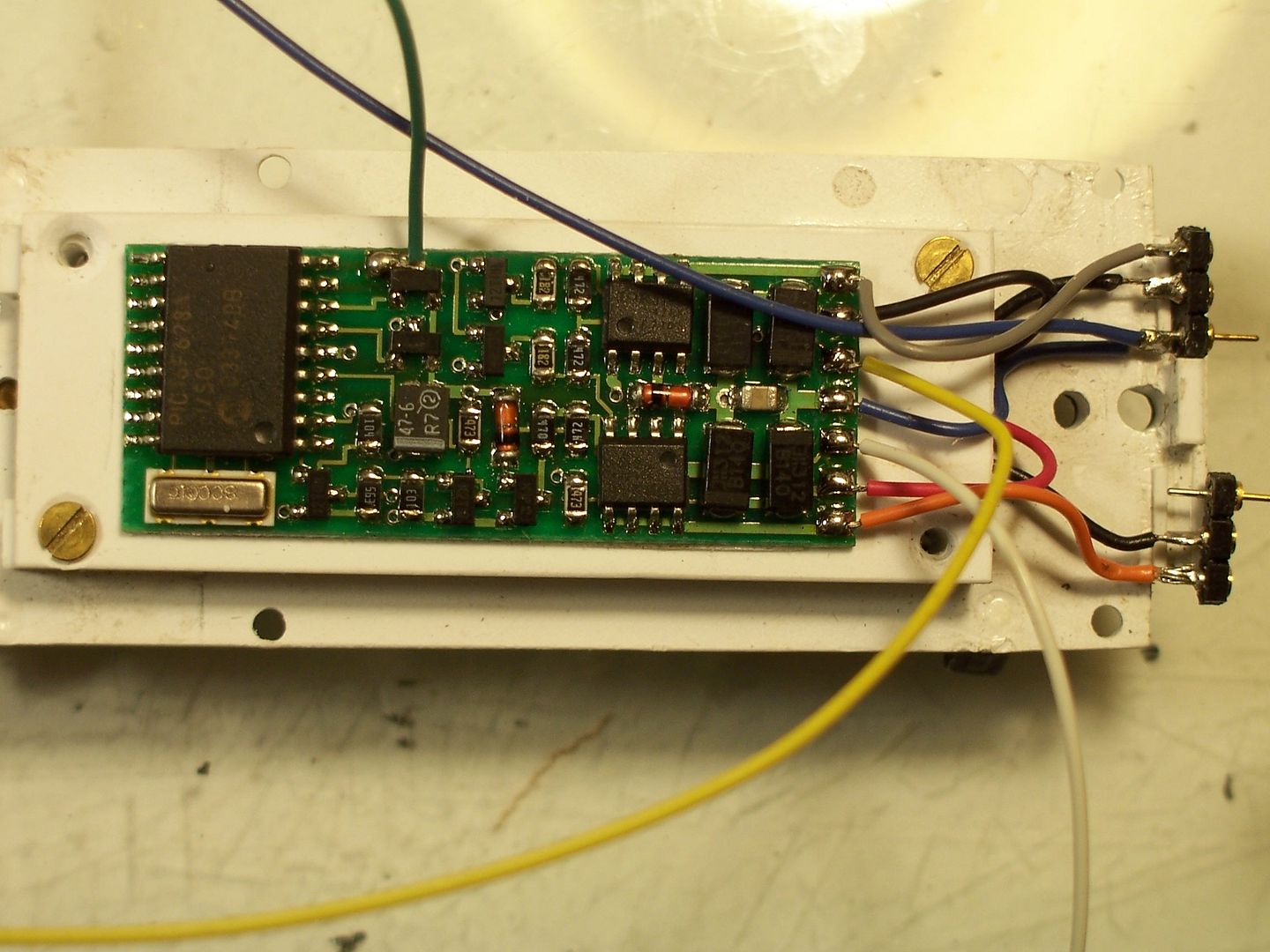 Here's the tender with its back-up light lit...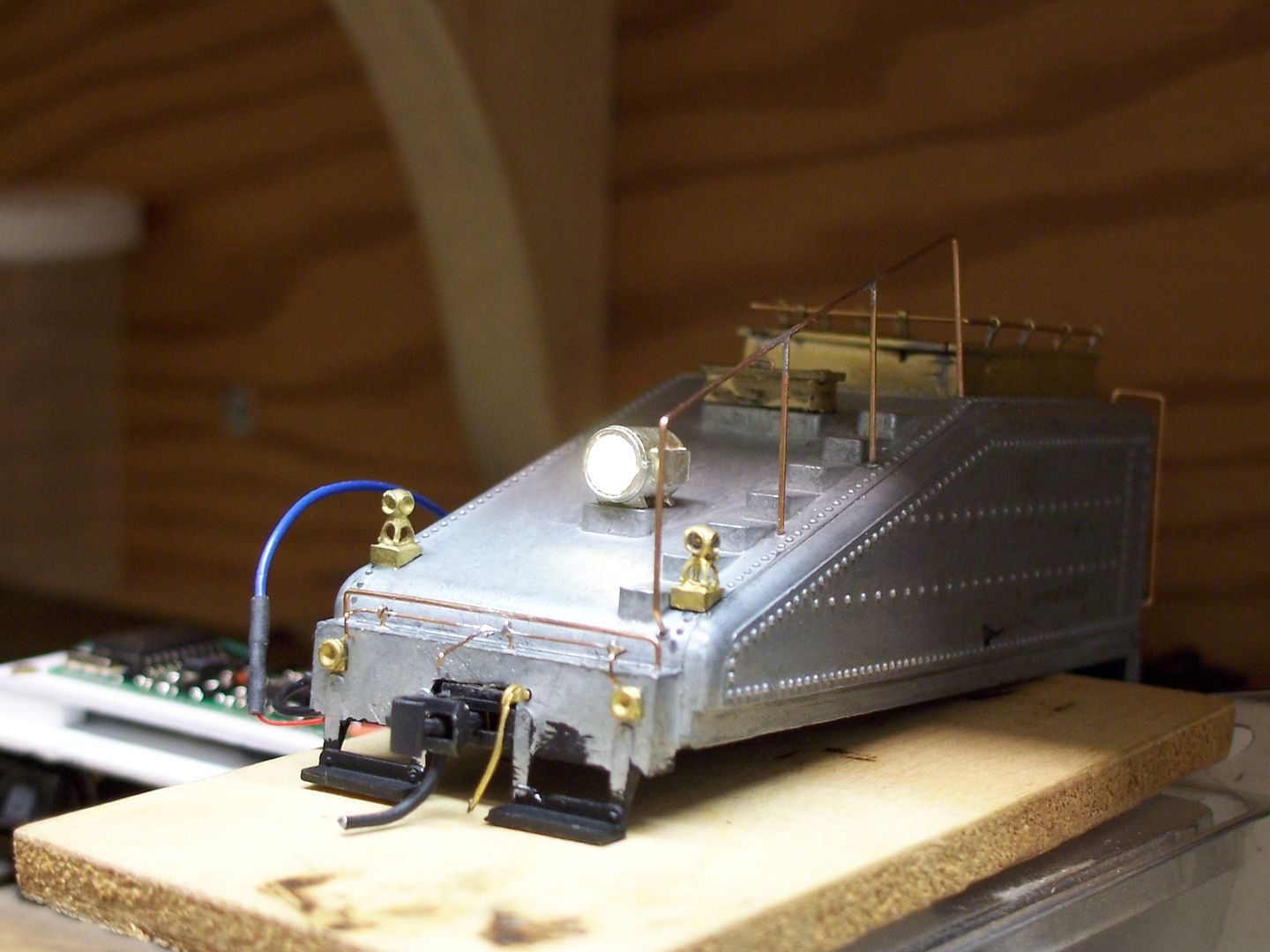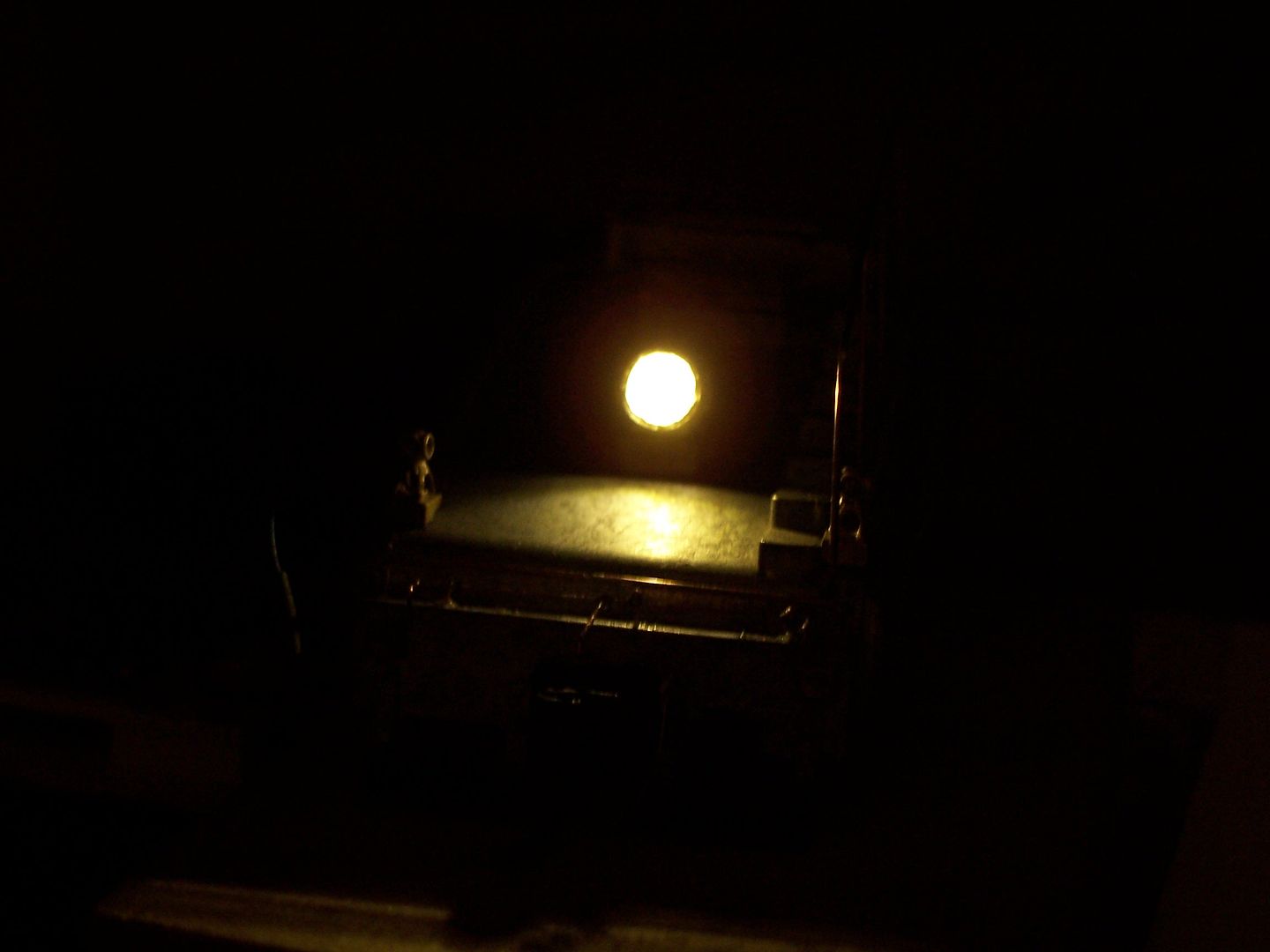 Here's the LED which provides the light....




...and a look with it, unlit, inserted into a small hole drilled into the back of an MV Products lense...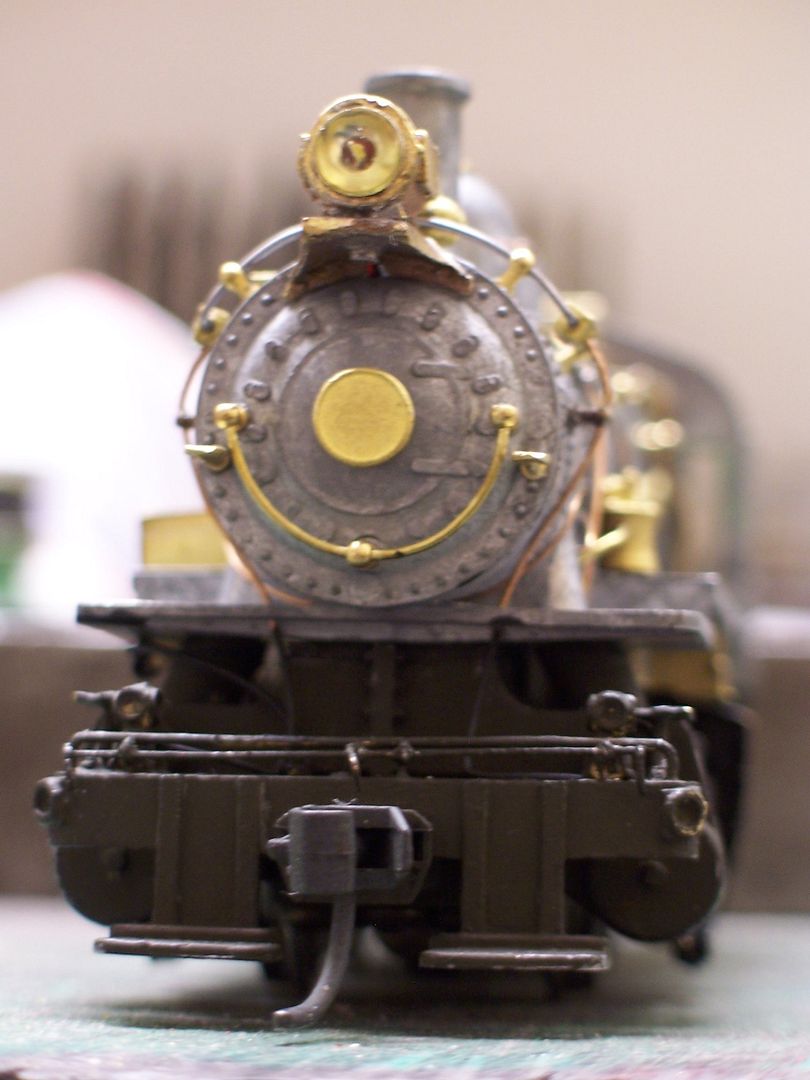 The kit came with an impressive amount of brass detail castings, but some were missing, so I used either similar parts which I had on-hand, or scratchbuilt something appropriate.

A few random views of the fireman's side of the loco...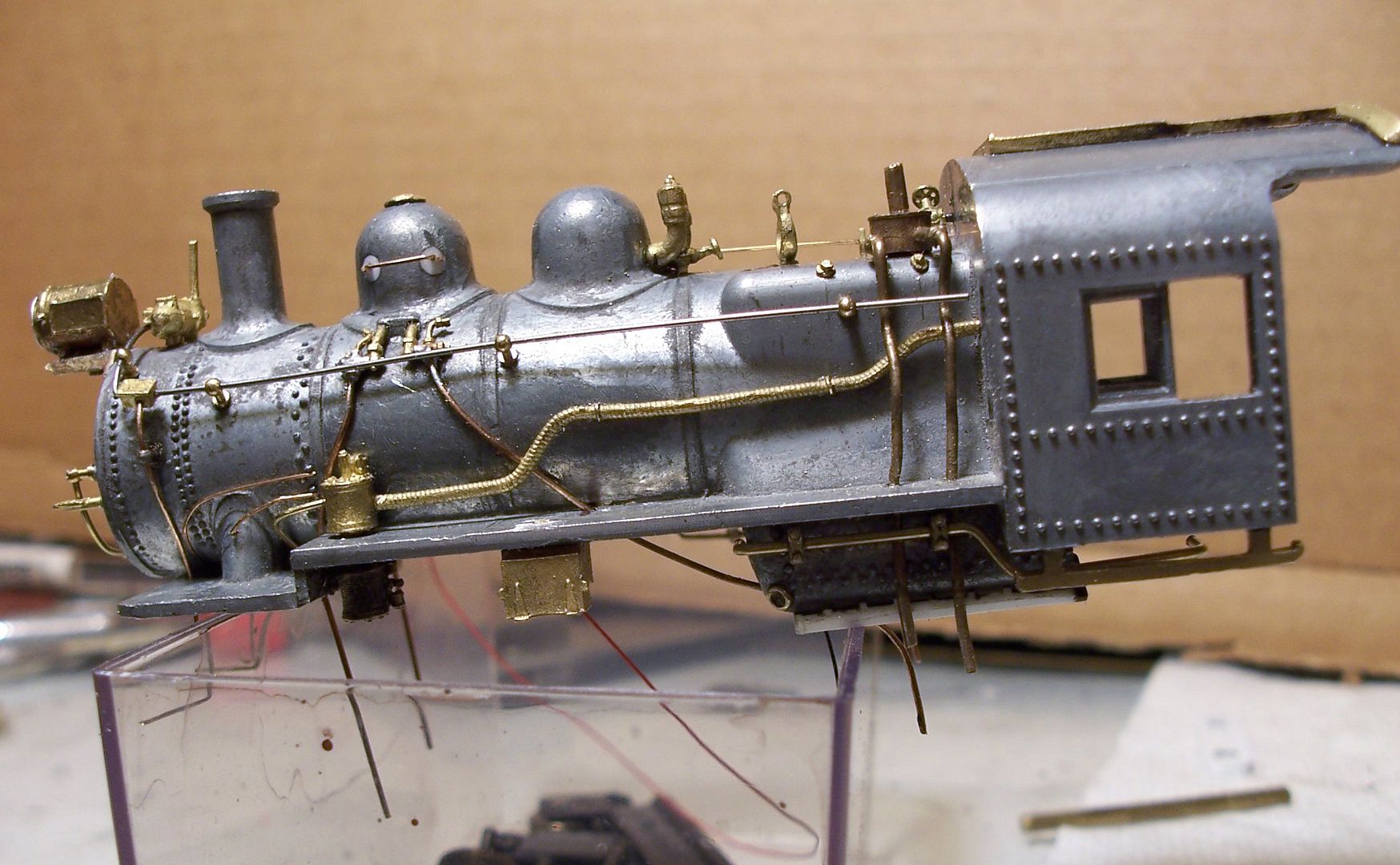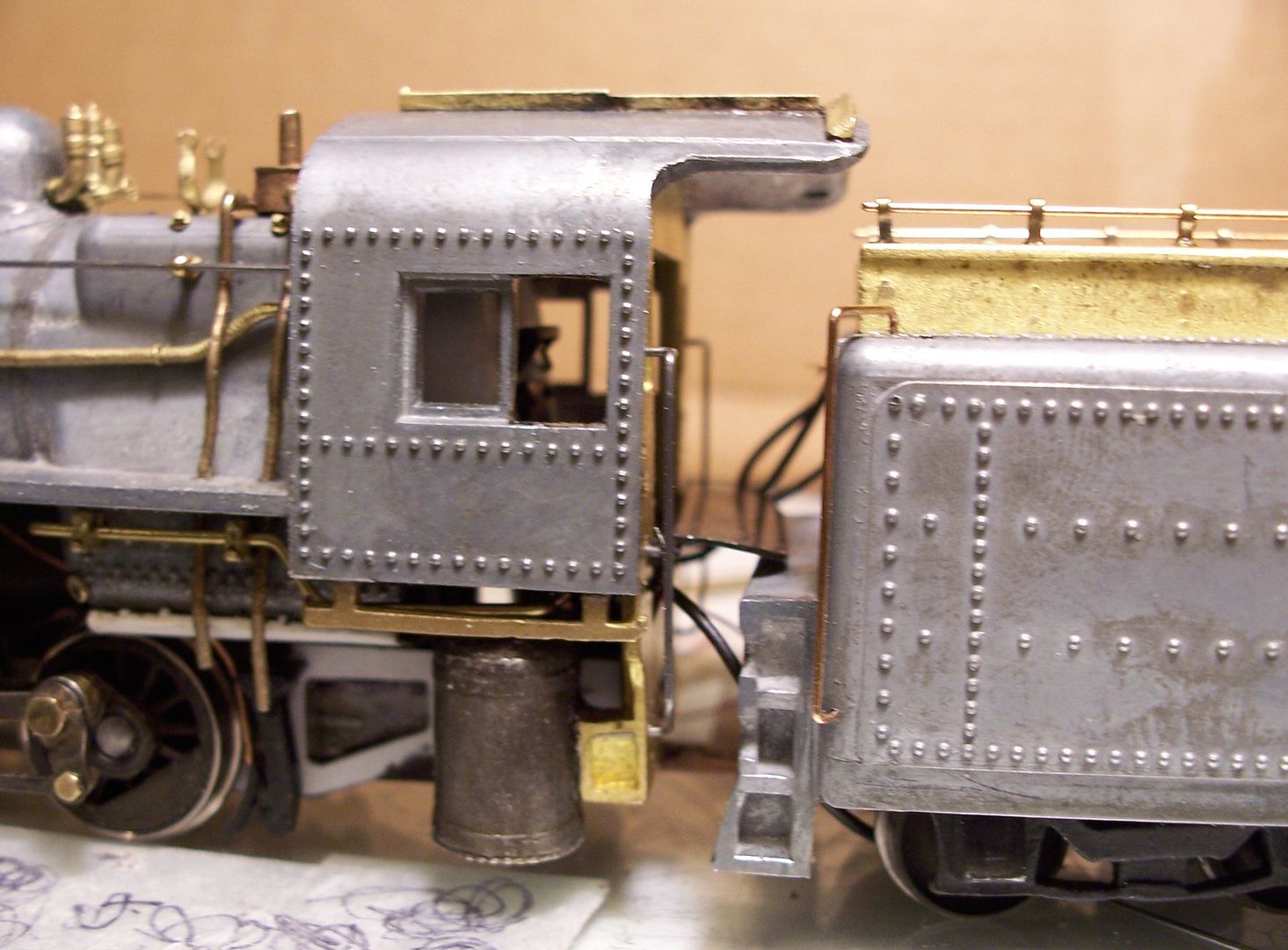 ...and tender...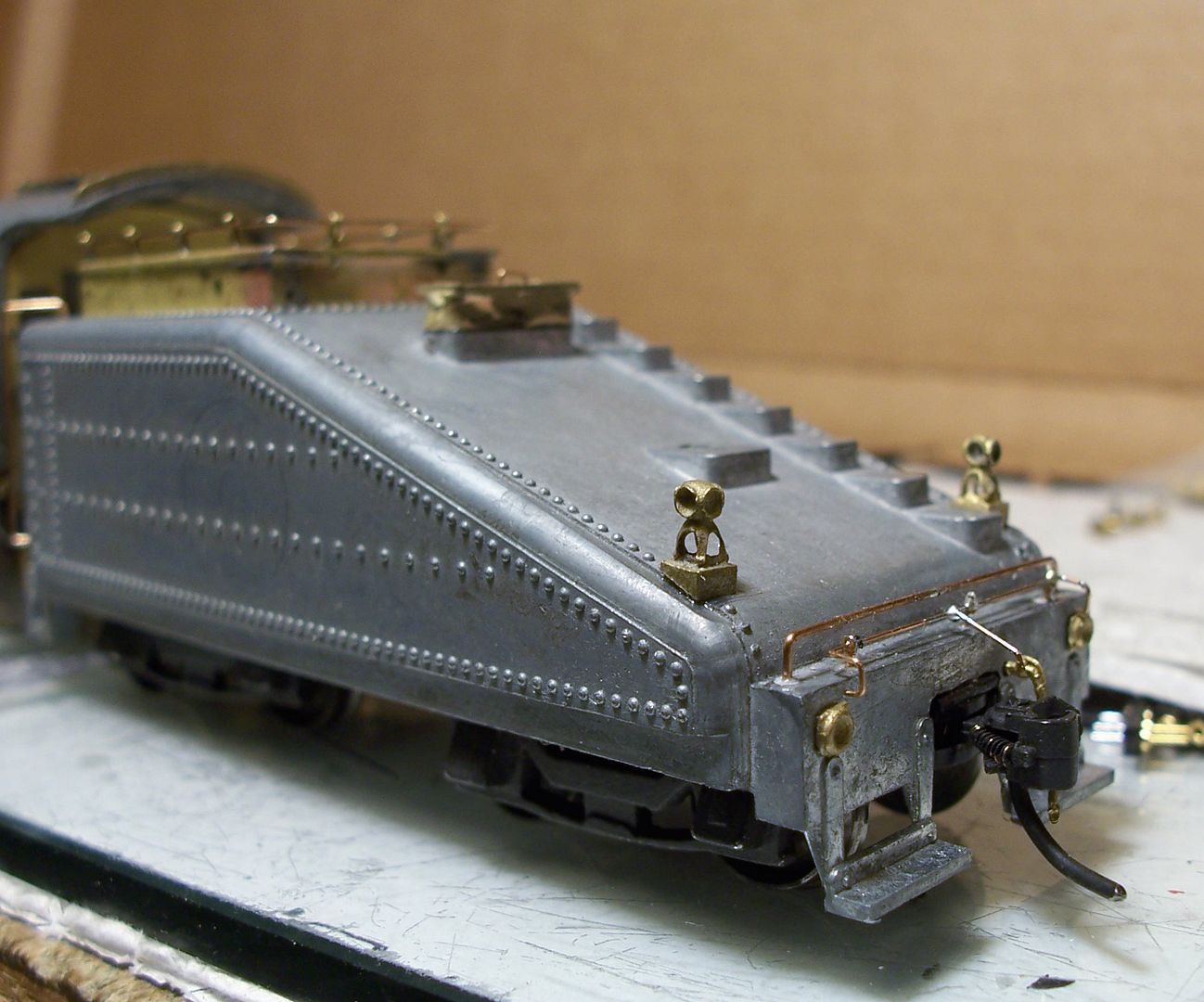 On the engineer's side of the locomotive, I decided to alter the running board to match that shown in a prototype photo.  The bumped-up area allowed for the installation of a power-reverse, but it also required new mountings for the piping which forms the cooling coils for the air provided by the air pump...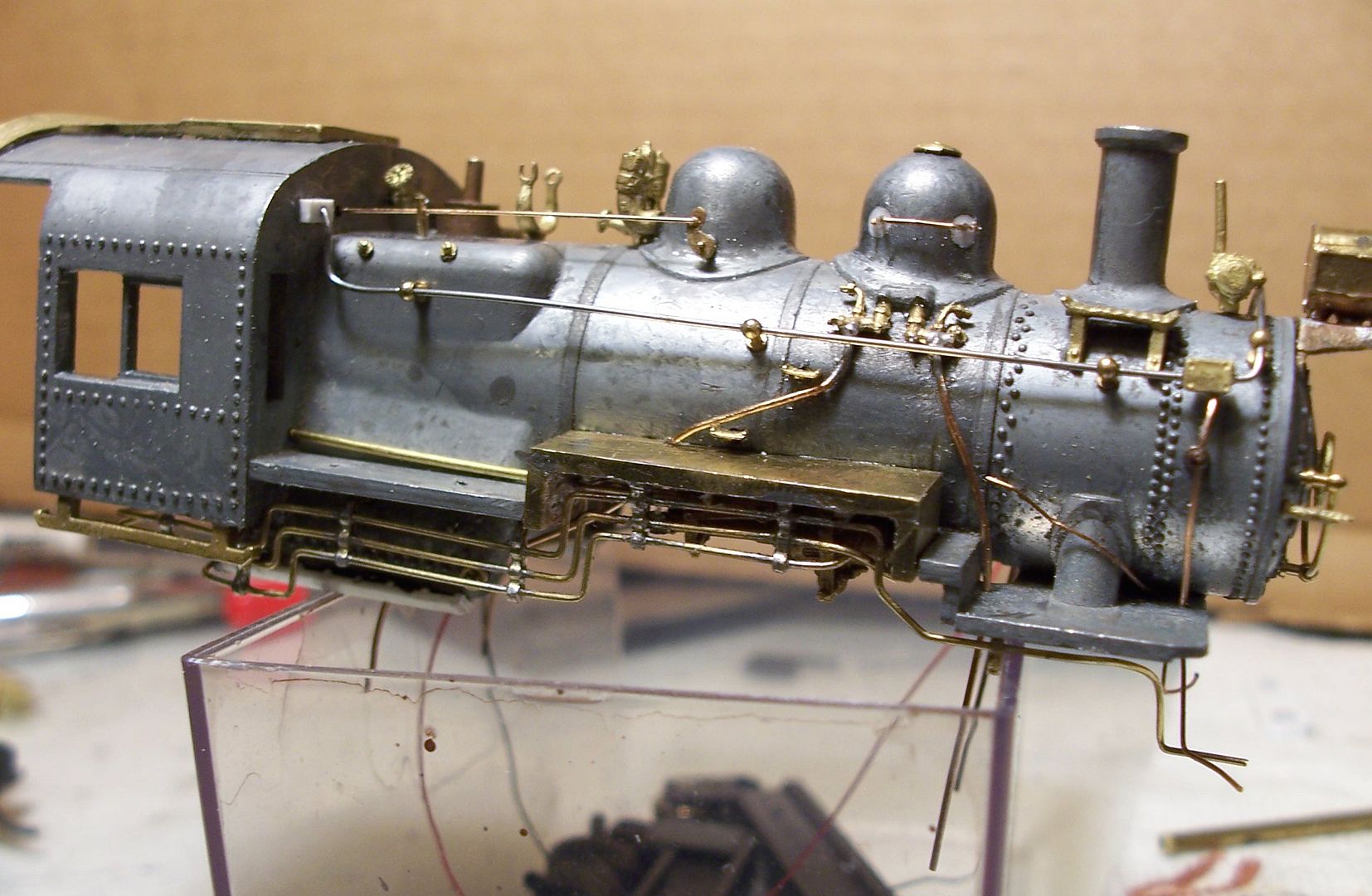 Continued in next post.....


---
RE: Another PRR A-5.... - doctorwayne - 11-08-2019

...continued...

..and here, installed on the mechanism...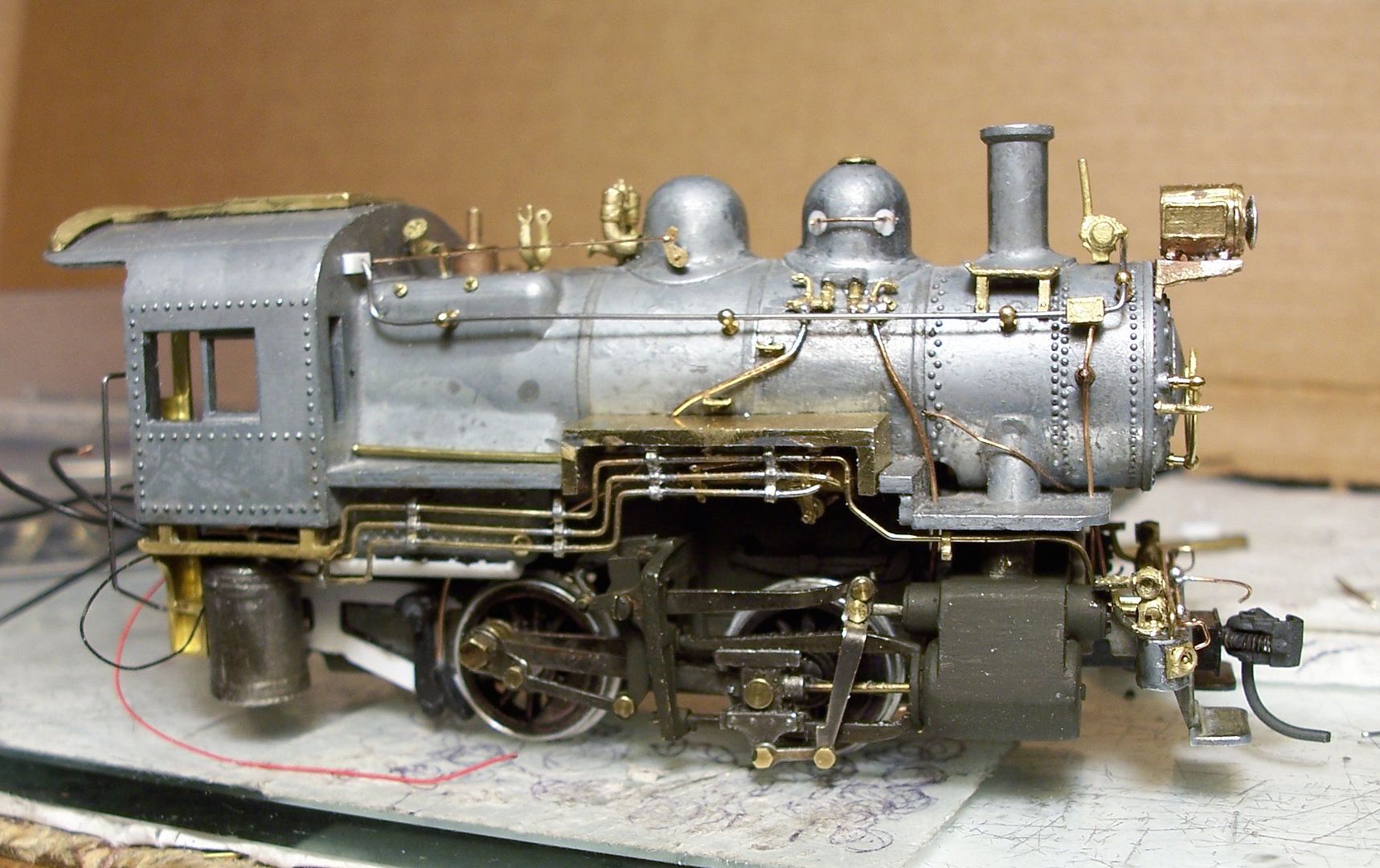 Because the model is cast metal, it was easier to drill oversize holes for mounting the small details,  as drilling the zinc with small-size drill bits often resulted in either broken or severely-worn bits.  Once the larger holes were drilled, I used styrene rod about .003" or .004" in diameter greater than the holes, dipping the rod into MEK in order to soften its exterior surfaces.  After a couple-or-three such dips, the over-size rod was easily forced into the under-size holes.  Once it re-hardened, any protruding material was sliced-off and the area filed or sanded smooth.  It was then easy to use a small drill bit (in a pin vise) to drill suitably-sized holes for detail parts, such as the grabirons on the sides of the sand box (dome).

A front view (the headlight lense is not yet cemented in place)...




...and the view into the cab, with its not quite complete boiler backhead...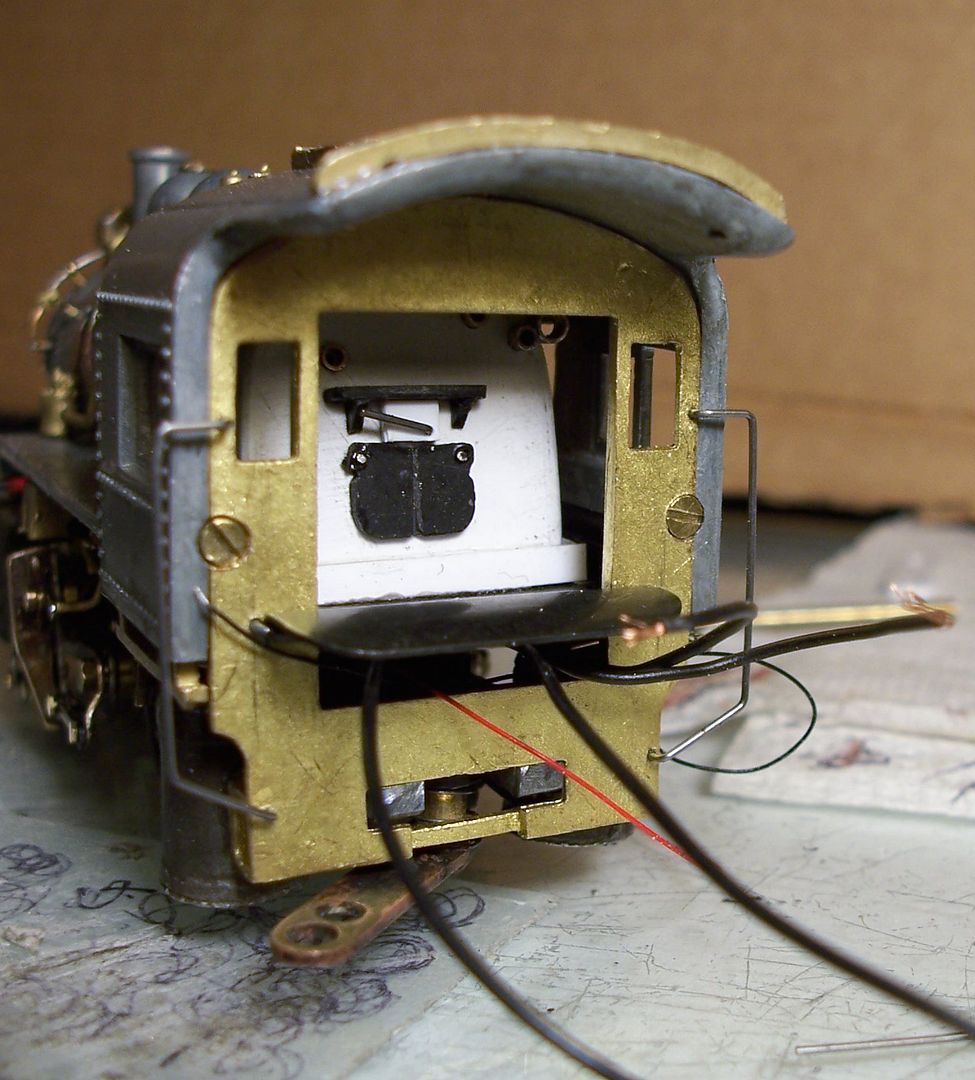 A few photos of the painted and lettered loco before weathering...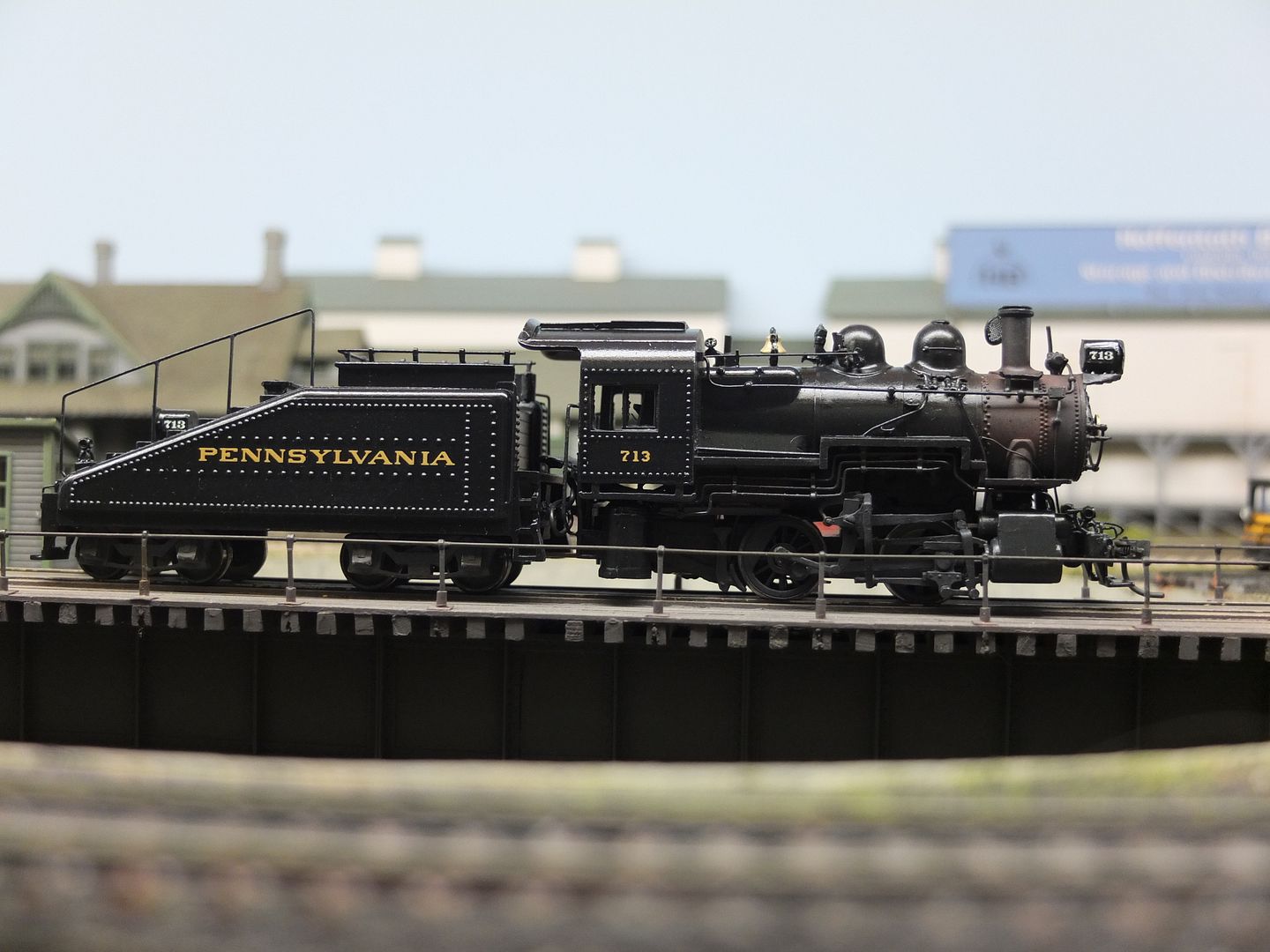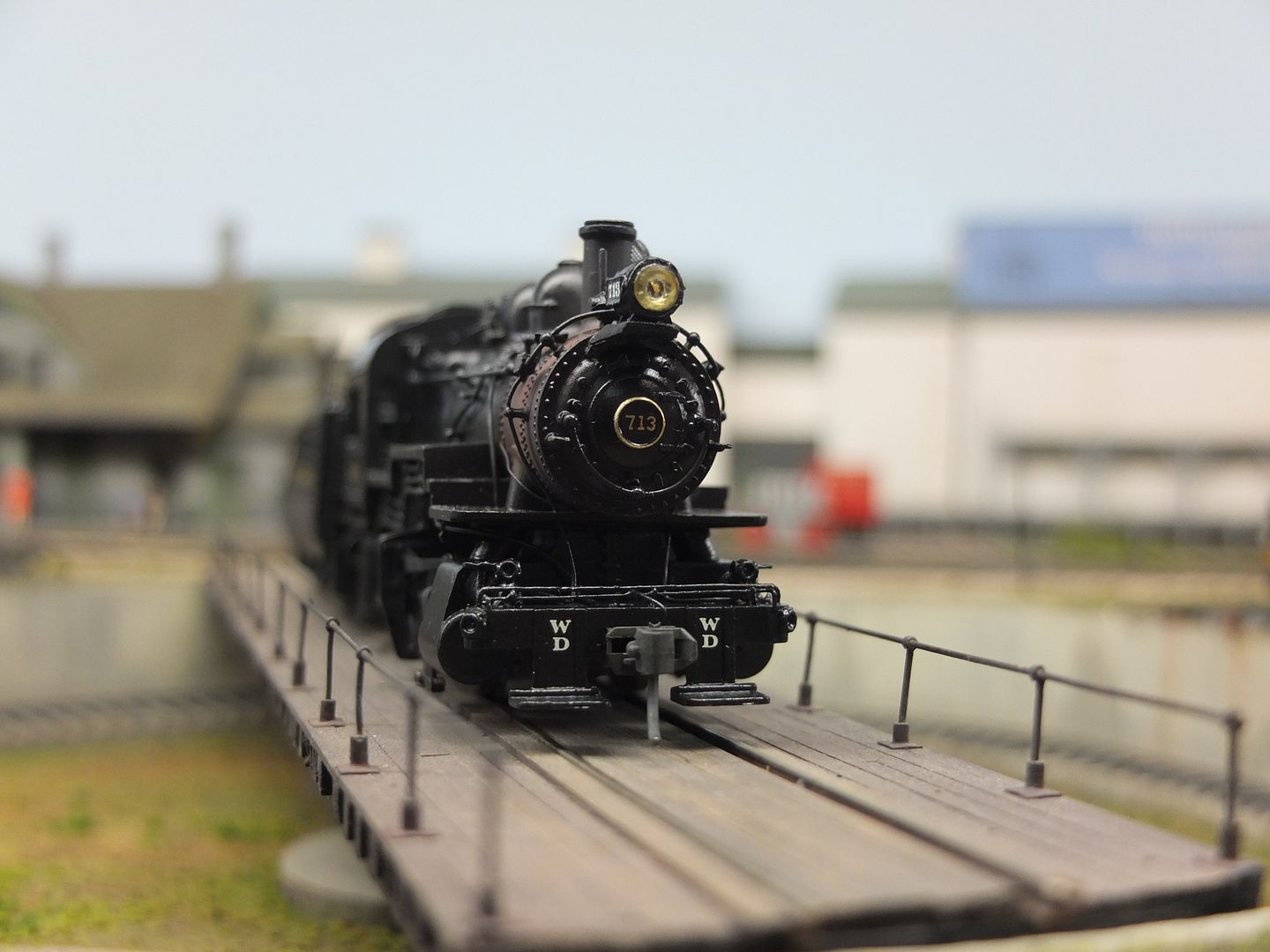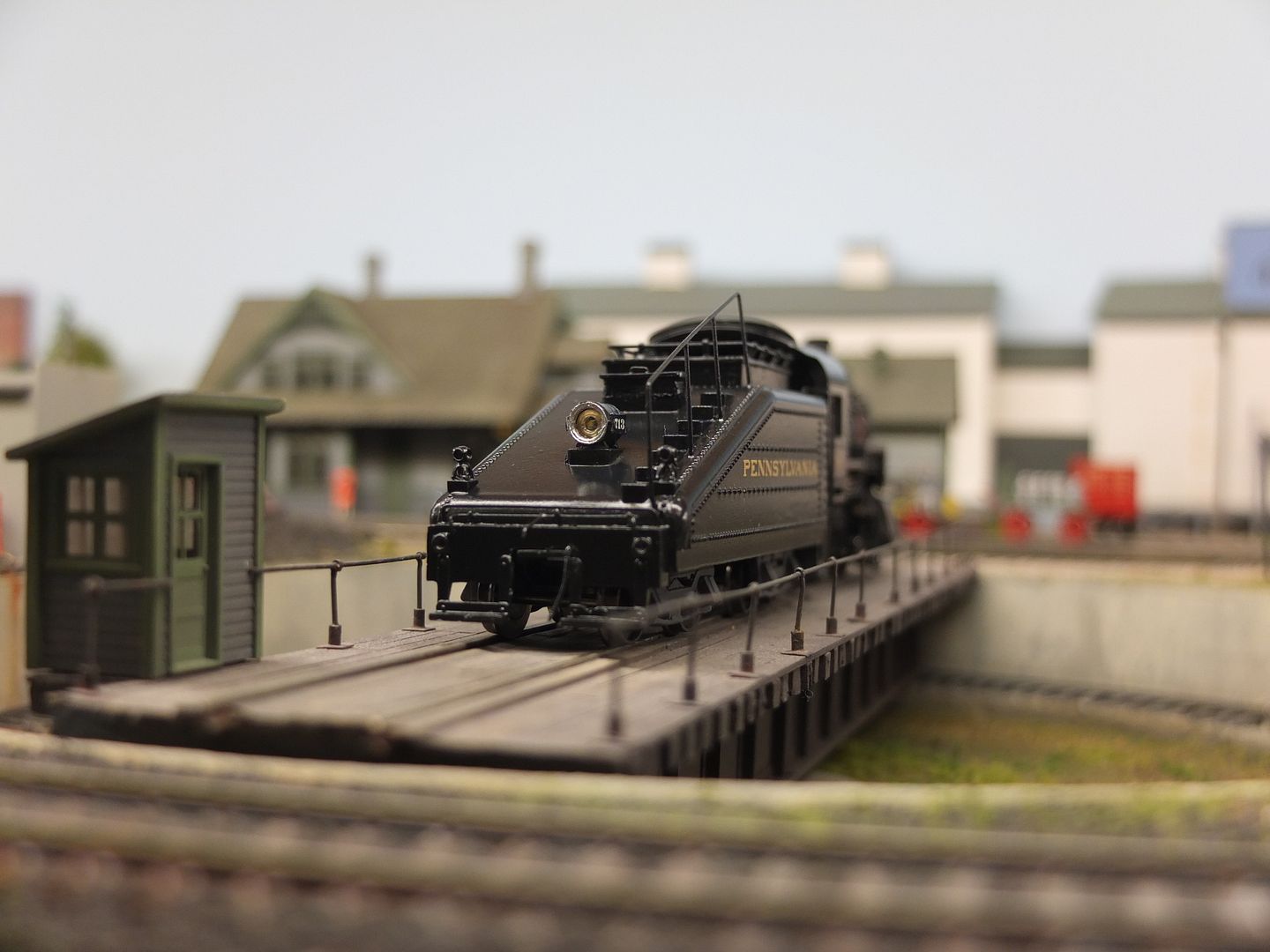 ...and a look inside the cab...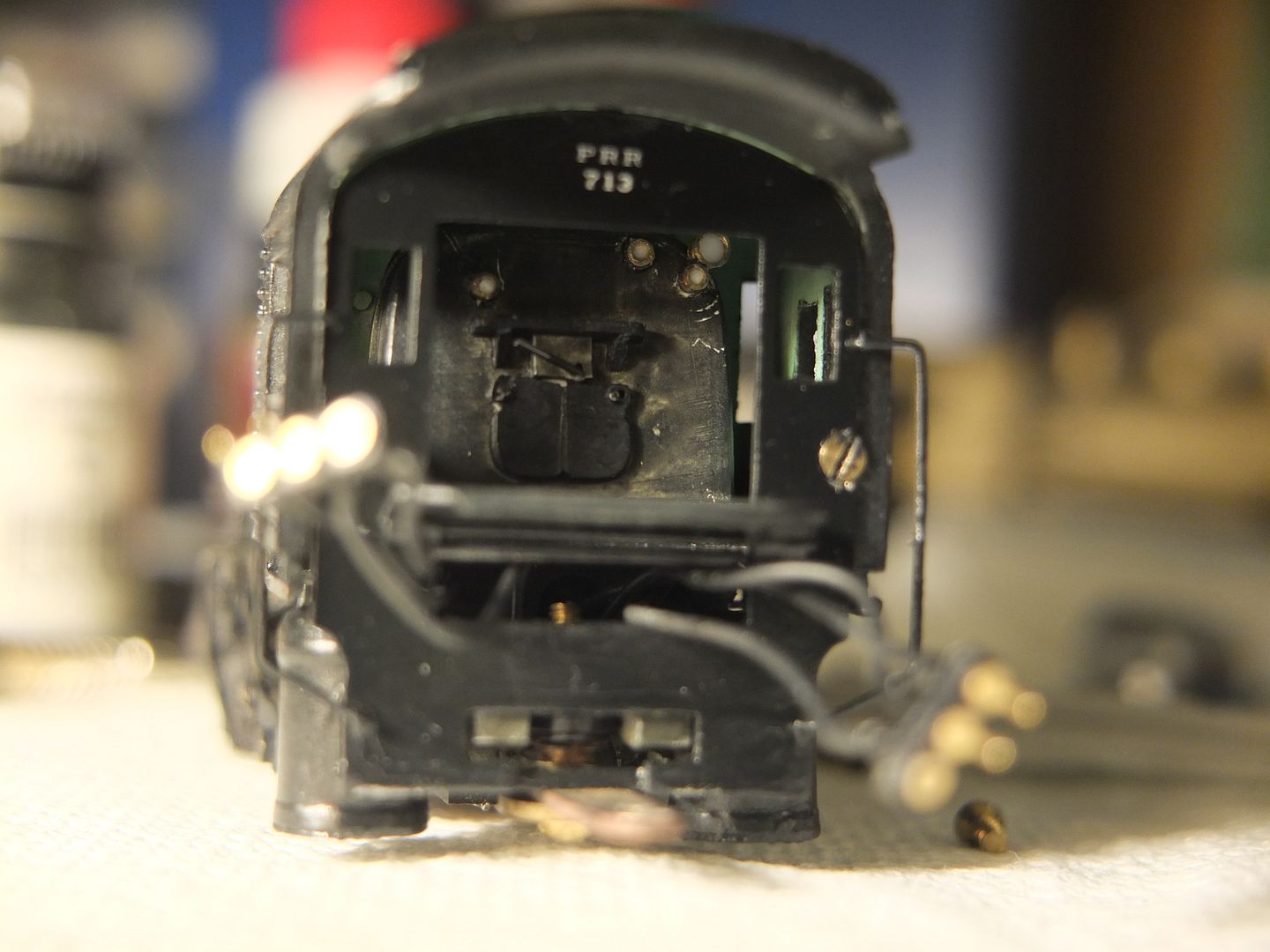 I took some more photos after adding some weathering, a combination of airbrushed paint and brush-applied artists' pastels...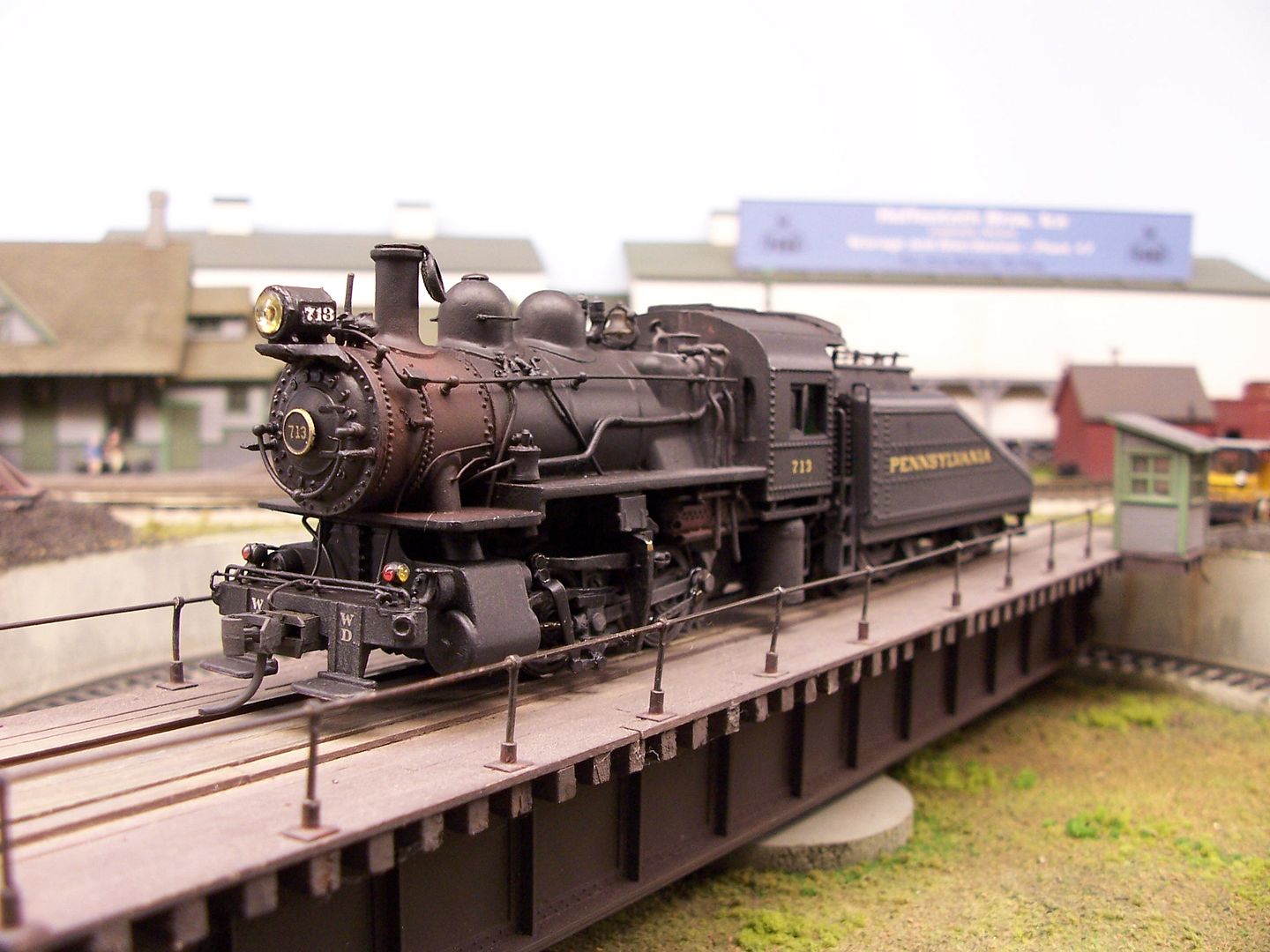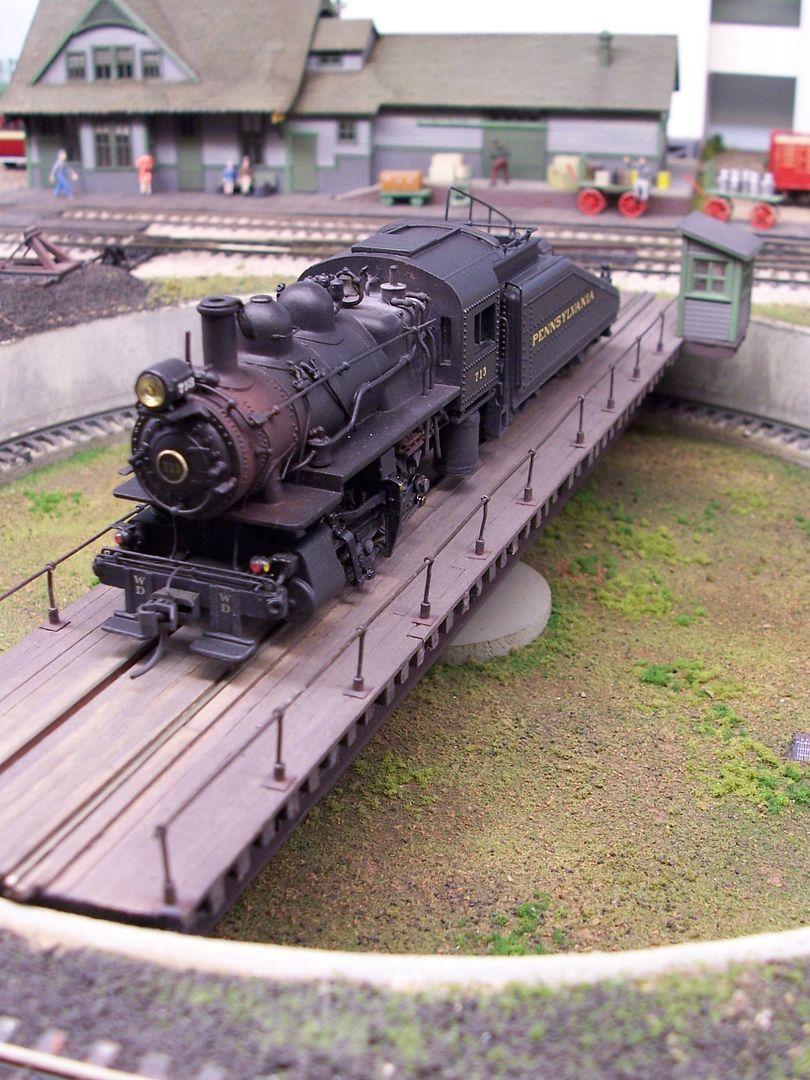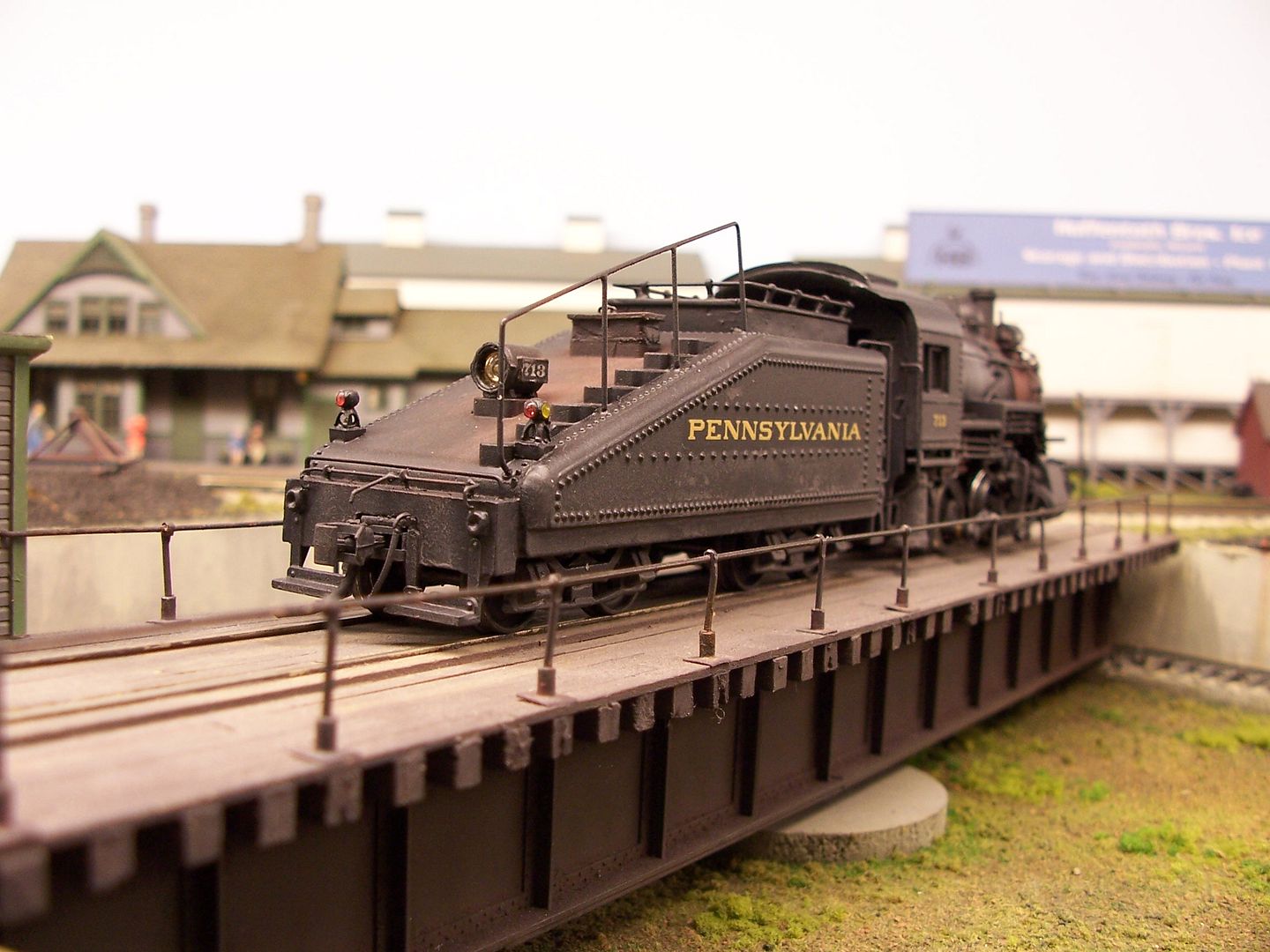 ....continued in next post....


---
RE: Another PRR A-5.... - doctorwayne - 11-08-2019

and the rest of the pictures...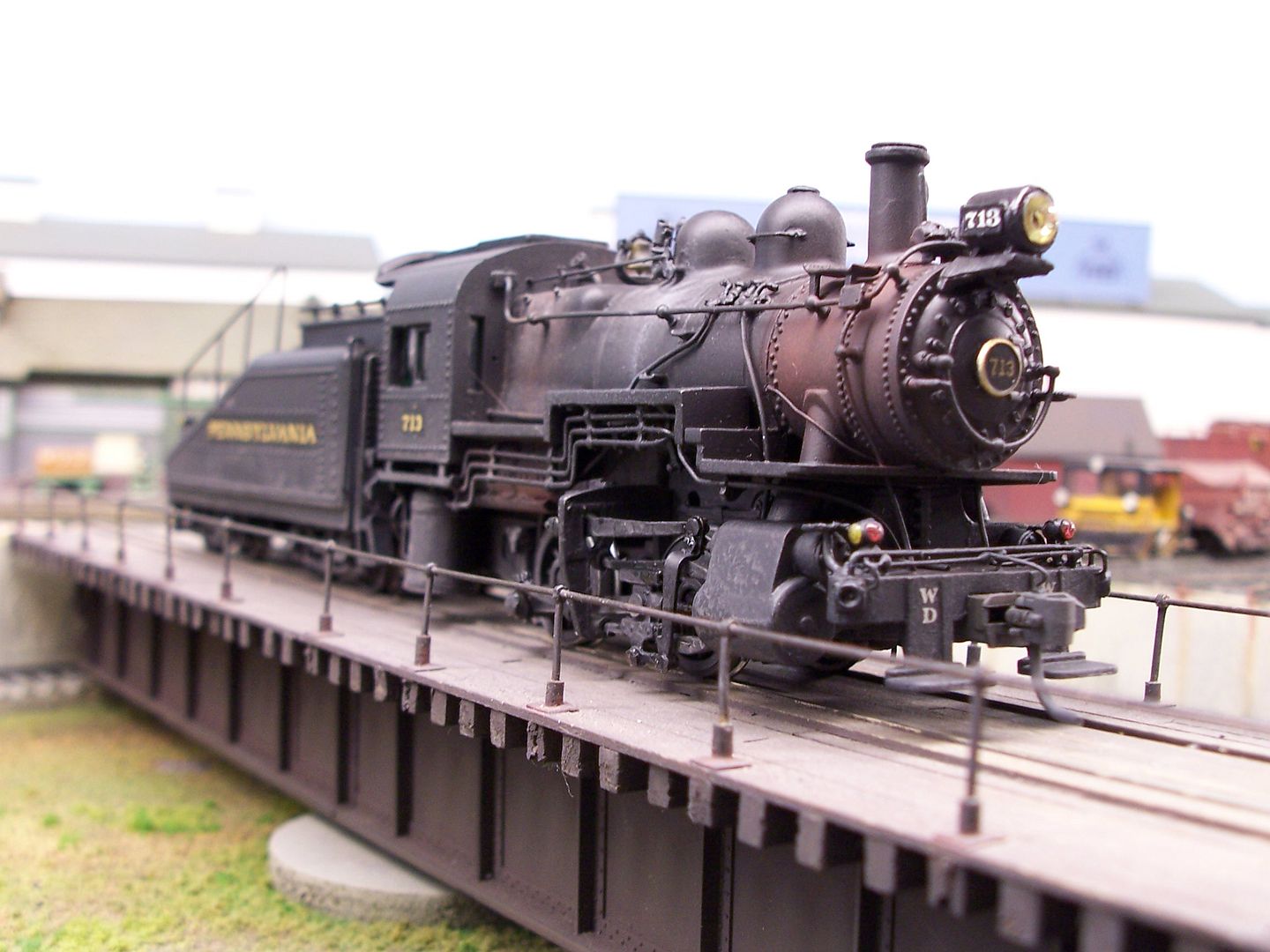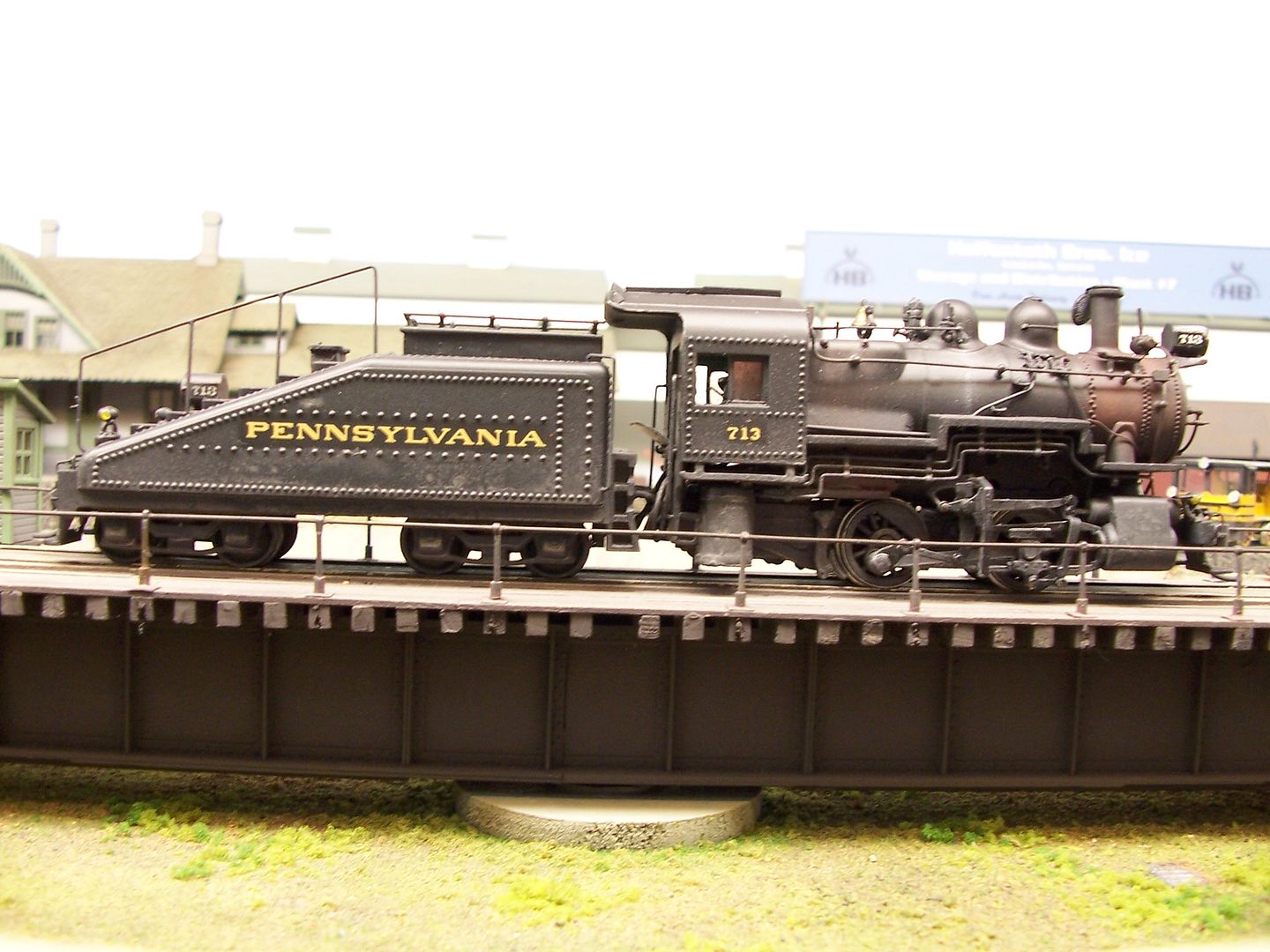 Wayne


---
RE: Another PRR A-5.... - Schraddel - 11-08-2019

Wayne,


WOW! Can i say only.


Lutz


---
RE: Another PRR A-5.... - Charlie B - 11-08-2019

Wow, and thank you. Great build. And here it is after it was put to work. [attachment=32646]
Charlie


---
RE: Another PRR A-5.... - cn nutbar - 11-08-2019

I agree Lutz---another work of art Doctor Wayne 
---
RE: Another PRR A-5.... - doctorwayne - 11-08-2019

Lutz, without your prior efforts and your willingness to share information, I might never have completed this project, so my thanks certainly goes out to you!

Wayne


---
RE: Another PRR A-5.... - ngauger - 11-08-2019

Great stuff guys!!!!! Wayne, that's top notch work!!!


---