...to accommodate the addition of a partial second level.
While it was always my intention to have a partial second level for my layout, it was a number of years before it was added, and I hadn't realised, in the planning stages, how it might affect the portion of the layout beneath it.
One issue was accessibility to manually-controlled turnouts (Caboose Industries ground throws) which were all easily reachable and viewable when the layout was on one level, but some of which became difficult to reach or see when the second level was added and with trains on the lower level, now in the way, unable to see over them due to the upper level blocking the view. 
I had long considered the use of powered or otherwise remotely-controlled devices for these problem turnouts, but only recently have begun to address them.
Recently, there was mayhem at Lowbanks when crews arrived to do trackwork.  For some time now, since the addition of the partial upper level of my layout, some turnouts on the area below have become more difficult to reach, especially when trains or rolling stock are in the way. 
The plan was to replace the Caboose Industries ground throws (which otherwise operate perfectly well) with fascia-mounted controls, either via electric motors or mechanical means, like the BluePoint devices.  While most of the track is on 3/4" cut-out plywood subroadbed, nearby scenery, and the turntable have somewhat unconventional support by a mishmash of on-hand materials.
Here's an aerial view (courtesy of Secord Air Services) taken before the second level was in place, showing the area where the incident took place.  Just visible over the roof of the Lowbanks Shops, and behind the combine parked at the station, is a pair of turnouts which form a crossover between the north and south mains.  Those two turnouts were the ones to be updated, using Rapido's  Rail Crew turnout motors...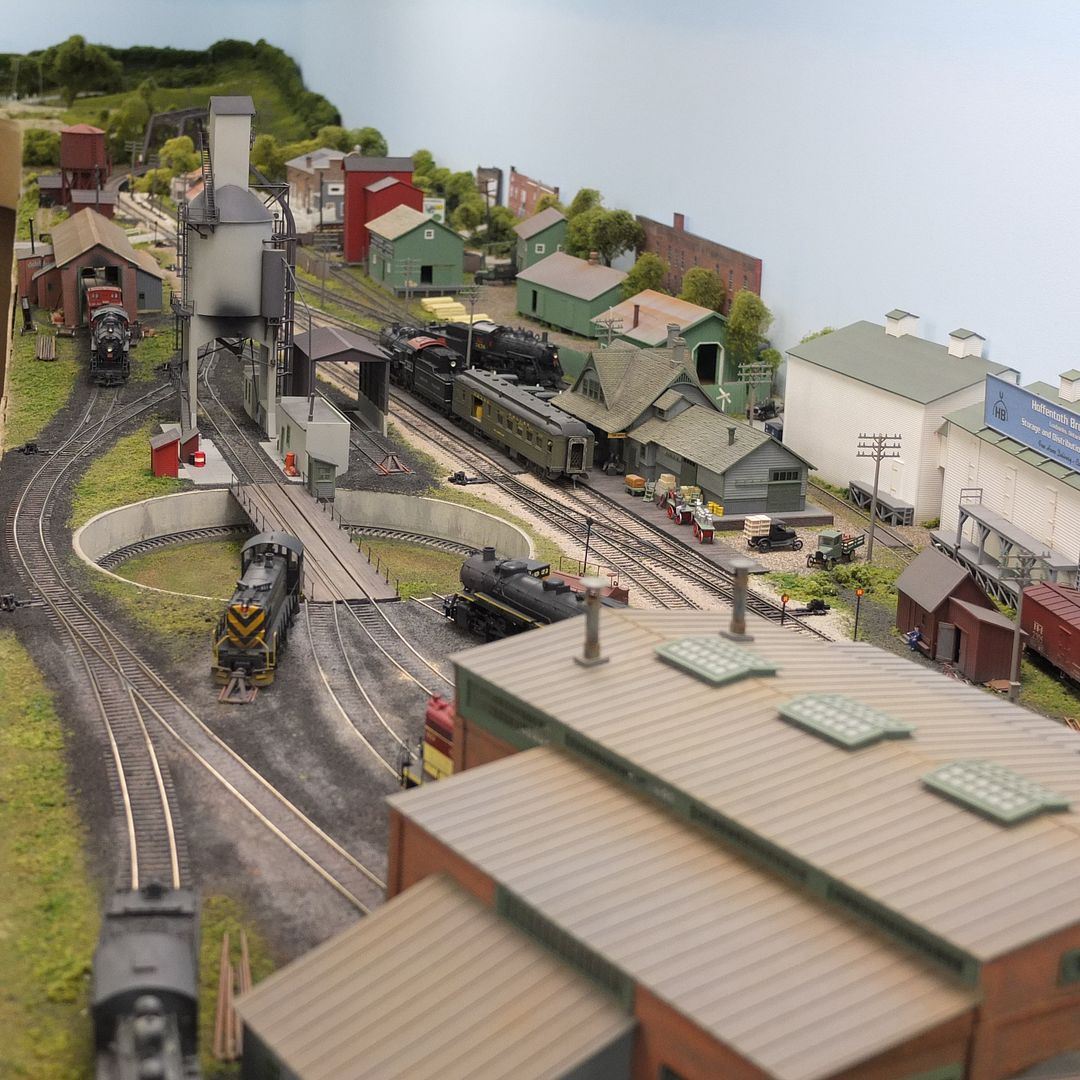 These motors mount next to the turnout being controlled, and require a suitably-sized hole (1.125" diameter) to be drilled 1" from the nearest rail.  I used a 1.125" spade bit in my cordless Dewalt impact driver, and was fortunate to not hit any screws or nails during the drilling. 
However, I was surprised by the "collateral damage"....
...this one's just over an inch deep...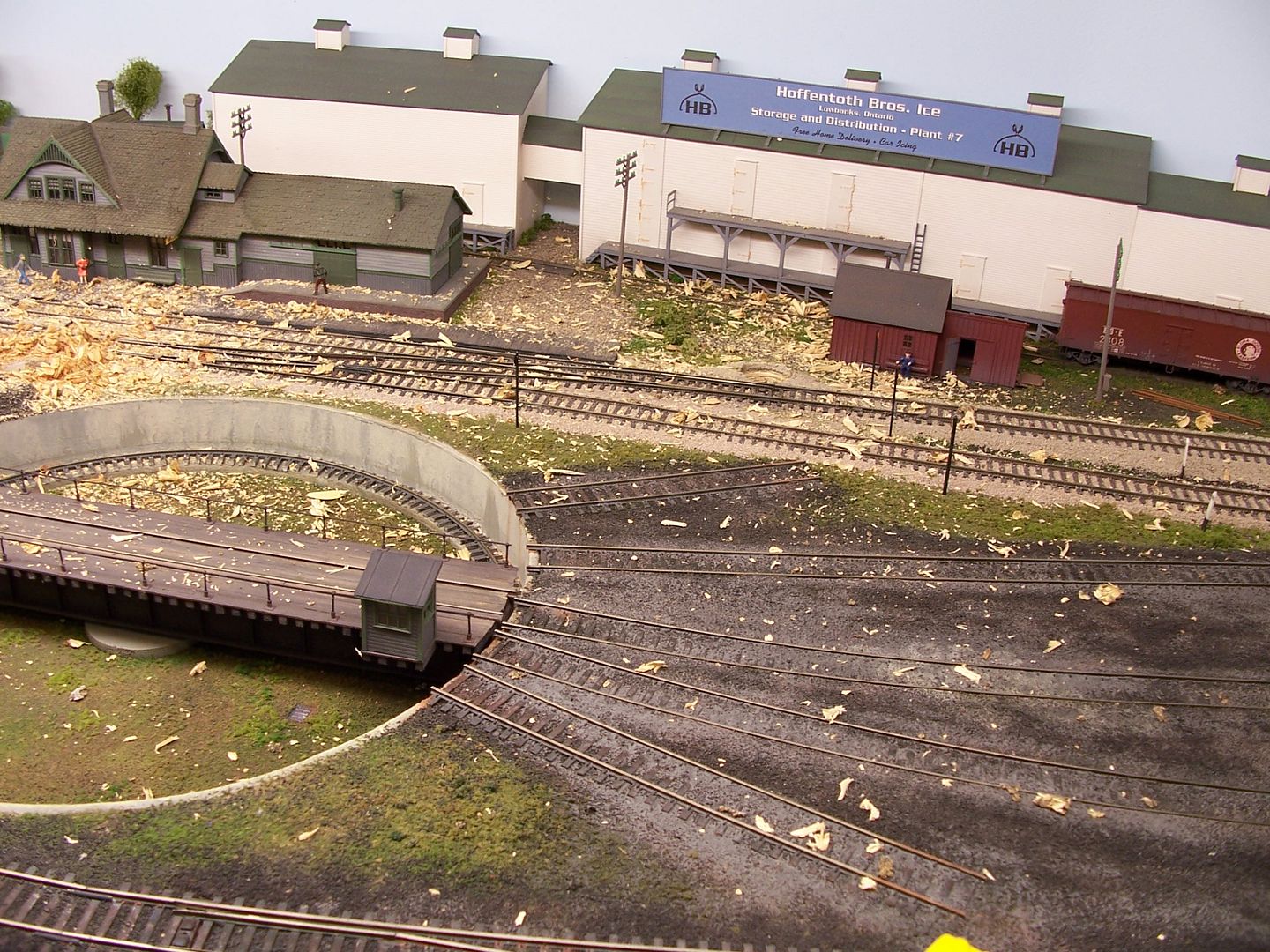 ...while this one's over 2" deep, due to the aforementioned mishmash of materials....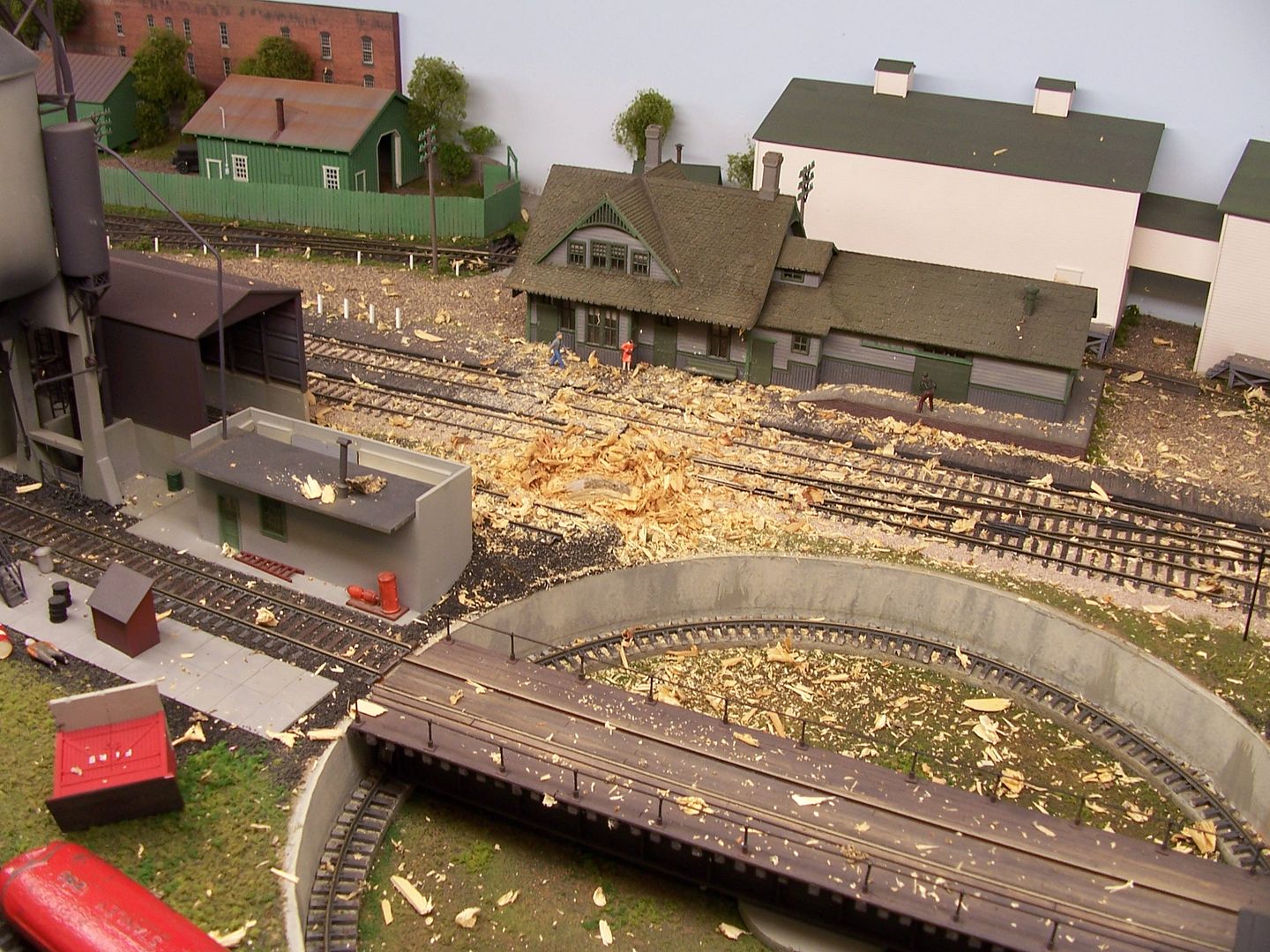 In addition to the wood chips (how much woodchips could a woodchuck chuck if a woodchuck could chuck chips), LPBs, vehicles, and many not-nailed-down or otherwise secured details, some up to 6' away, were dancing all over the place.  They're currently in piles scattered about the area.
Most of the wood chips have been vacuumed-up and the two RailCrew motors are in place and are, after a considerable amount of adjustment, functioning, but still need to be permanently wired to a power source and a fascia-mounted switch.  I hope to be able to control both motors from the same switch, as neither should be used without the other.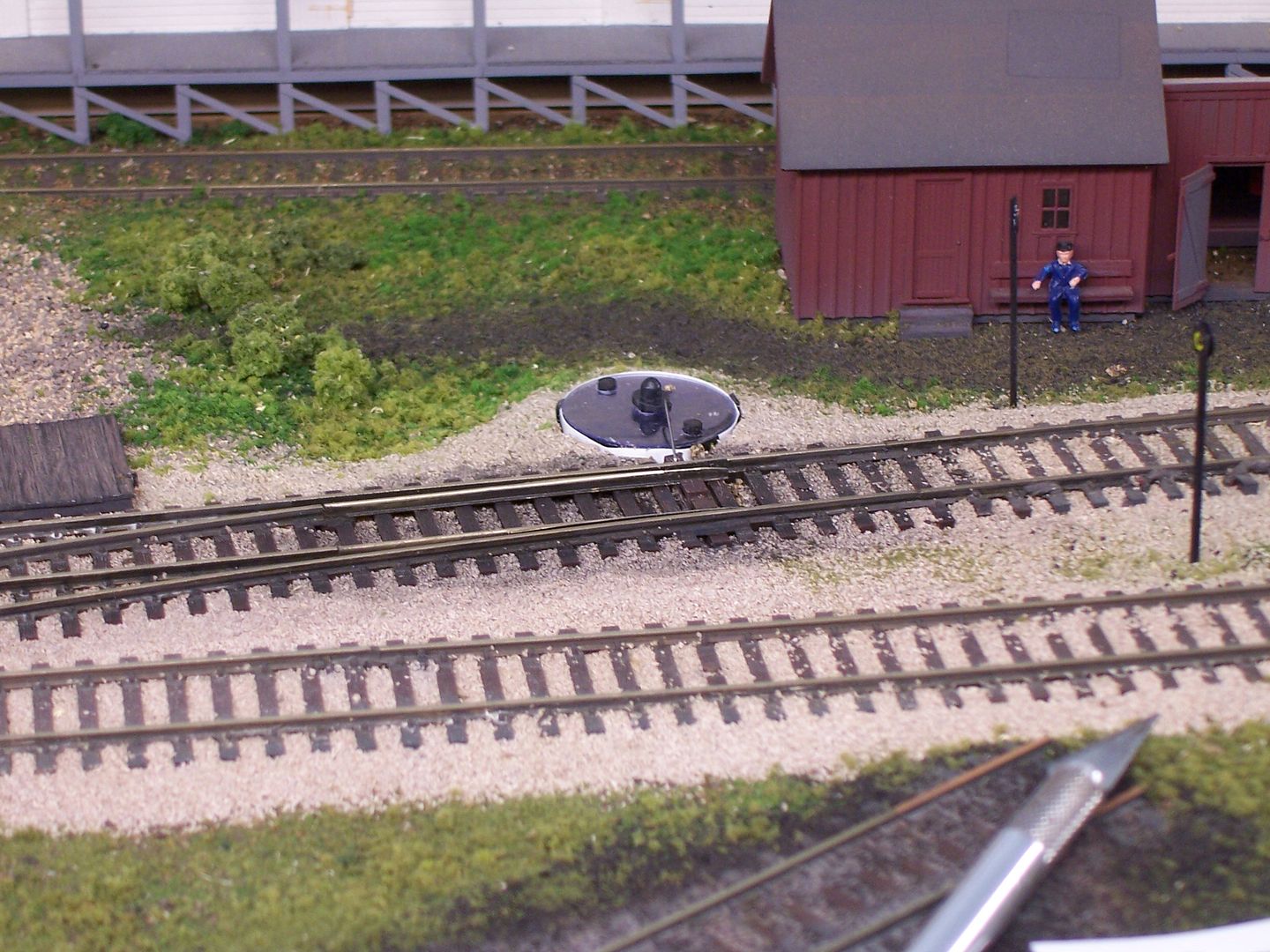 Headblocks and working switchstands still need to be added, then the motors will be covered-over with ballast.
I have another eight turnouts to modify on the lower level of the layout,. and at least three on the upper level, although that will increase when the industries are built in some of the not-yet-started towns.
I have two more of the RailCrew motors (got all four at a good price of ten bucks apiece when a nearby - five minute drive - hobbyshop closed). 
I also have four Fulgurex stall-motor turnout devices, thank to a generous modeller on the MR Forums, who gave them to me free.  I had used one on a previous layout, about 45 years ago, to control a scratchbuilt curved turnout (roughly a #12, or perhaps a bit longer) with a moveable frog.  At that time, the turnout motor cost over $20.00 apiece.  It worked beautifully.
I've already added one of the Blue Point turnout devices on the upper level of the layout, although have not yet added the control rod for it.  Installation was very easy, and I have another 15 of them on hand. 
These remaining devices will be used wherever they'll be most appropriate, relative to both the layout construction methods and materials, and ease (or difficulty) of access.
F'rinstance, this turnout, near Chippawa Creek and on the outskirts of Elfrida...
....has been fitted with one of the Fulgurex machines, but I cannot get it to work due to the benchwork modifications needed when Chippawa Creek was added.
I'm hoping to remove it from beneath the layout, and perhaps use it on-layout for the same turnout, hopefully disguised by scenery or in a structure.
There are lots of other turnouts needing attention, and I'll deal with them here as time permits.
Wayne