Oh well, this challenge thing is just a good reason to do what I never really did in my life time since I was 7-8 year-old, I mean starting and "completing" a layout. Since I bought my house 3 years ago, there was a wall on my office room that wanted to be turned into a switching layout. I once bought the material, installed shelf bracket and benchwork but never went farther. FInally, I scrapped everything, so back to case number 0.
For the last 3 days, I've been revisiting my previous work and designs. My main goal is to have a operating shelf layout, rather simple, that will work mainly as a place to showcase my work.
THE GIVENS:
9' x 18" available space with a possibility to lay a switching lead against one wall. THe main issue is the fact the layout is located in a room with a sloped roof. Layout won't be very high, something like 42" from the floor. It's not a problem for me since my desk is near and I like to see my model at this height when sitting. My actual shelf layout is quite high and I don't like it this way.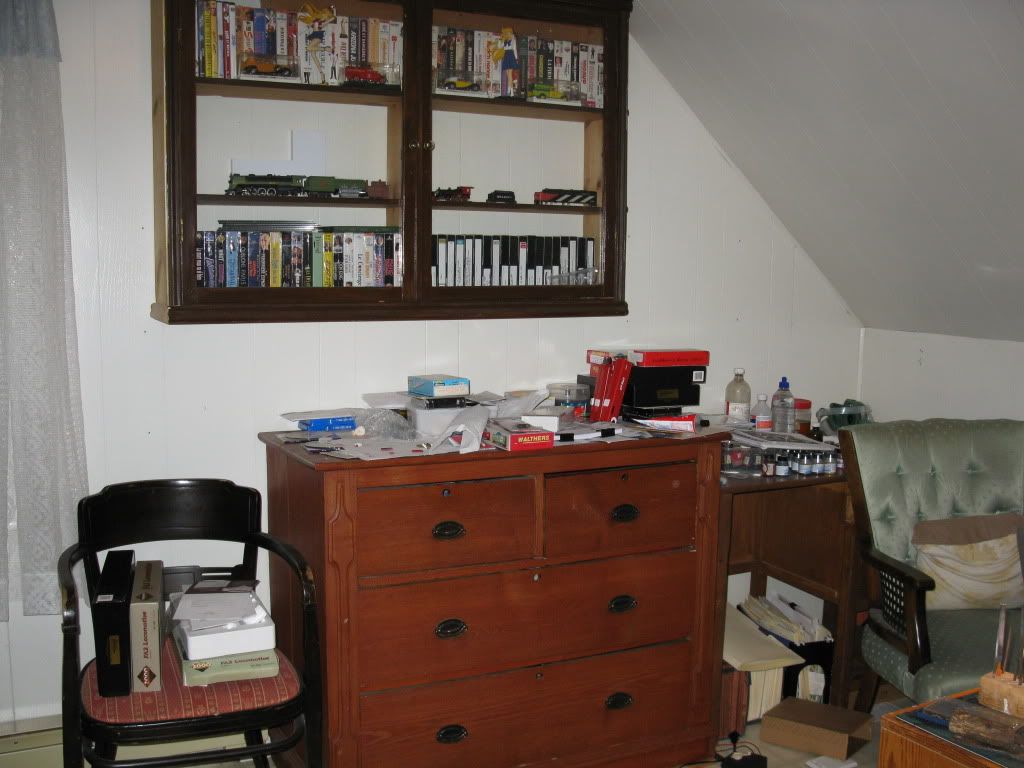 THE CHALLENGE:
I want to try things I've never done and go as far as I can to improve my modelling skills. I'm thinking about trying my hand on code 55 track and other fancy things like that. Since the layout is small and track plan rather simple, that could be a feasible way to learn more.
THE PROTOTYPE
The Industrial Avenue (French : Avenue Industrielle) was a small road that serviced Canadian Northern roundhouse in Limoilou Yard, Québec City. It started to be developed in the mid-30's but really expanded during the WW2. It became an important oil distribution center when this area was still a booming suburb. During the late 50's, the place was at its best and one could find 4 oil dealers, a large lumber yard and few others small businesses, all rail-served by two parallel branchline. Industrial avenue slowly faded away in the late 70's when many petroleum companies merged or disappeared. The overall borough is now a heavily polluted industrial wasteland.
Near this spot were also other industries, mainly on Conway Avenue and Des Capucins Boulevard. It included a coal dealer, a farm implement store, few food and beverage warehouses, buildings supplies warehouses and a scrap yard.
Here are 1957 Insurance Maps from Bibliothèque et Archives nationales du Québec: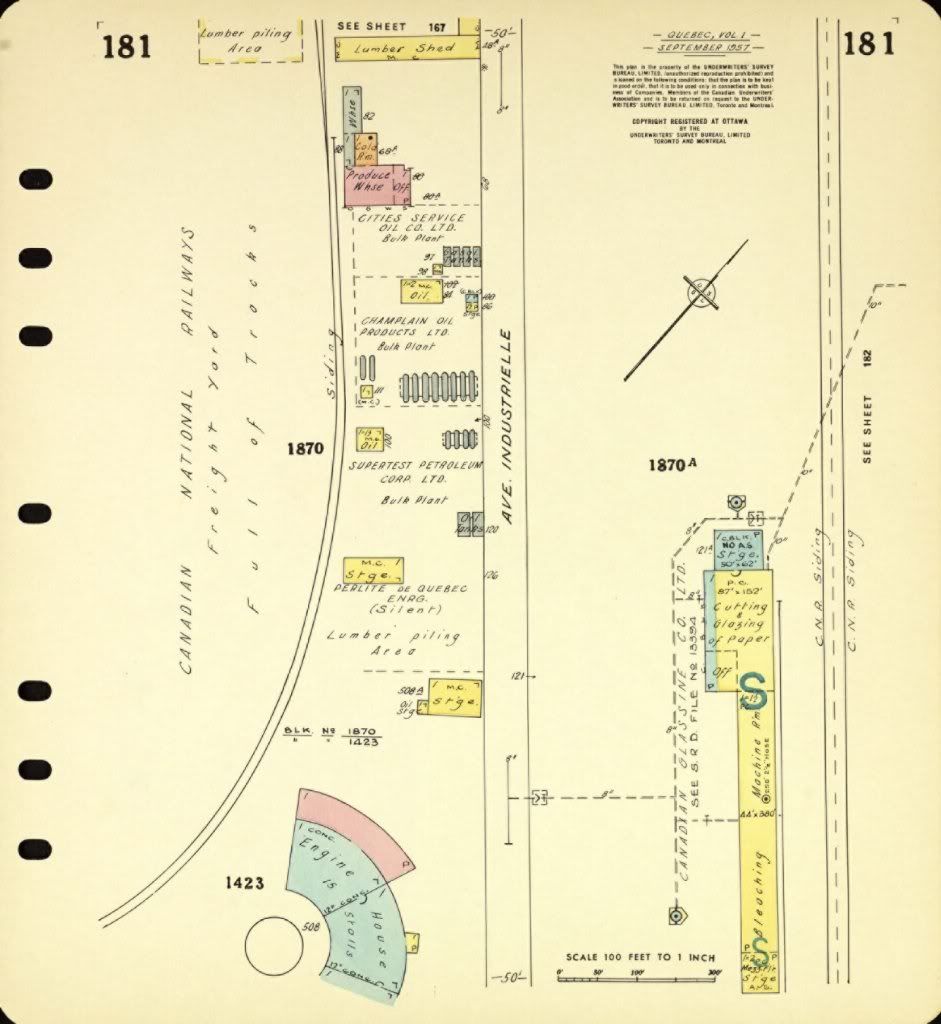 THE LAYOUT
My space is limited, about 9' x 18" with a possibility for a long switching lead along the gable. This industrial park is interesting because it's small, full of industries, need little trackage and fits perfectly for a switching layout without too much effort. Someone with more space could easily model it completely.
I must admit many industries are duplicated. It's why I think it is appropriated to merge Conway Avenue with Industrial Avenue together. This way, you can add more diversity to the rolling stock and still keep all major players in the game.
The industries sequence was also designed in such a way that more urban clients are located, like the prototype, on Canardière Road. Disorganized industrial activities are kept near the yard and the roundhouse.
A storage track wraps gently around the roundhouse just like the prototype. It will be used as a storage device but also as a place to build and break consists.
I felt there was no need for a runaround. Each track has enough car spots to make it hard enough to switch. It's more prototypical and helps to stay away from a "Tymesaver" look.
THE FIRST DRAFT
I started with a lot of idea, finally to remember Coco Chanel's iconic catchphrase: "Always remove the last accessory you put on." That way, I stripped thing to a bare minimum. In fact, it's closer to prototype this way IMO.
BTW, someone here will recognize that I vampirized his own artwork for my plan! I must admit his excellent industrial layout was what forced me revisit this old project that was laying in my drawers...
Matt